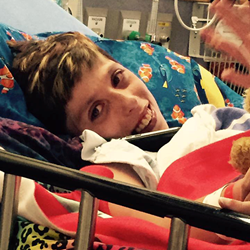 Carly is struggling, but she's still got a sense of humor and a smile, and our team is going to stand with her to help raise funds for her ongoing treatment
Forked River, NJ (PRWEB) July 15, 2016
Sharer & Associates Inc., a family managed insurance and financial planning firm with offices that serve Forked River, Millstone Township, and the northeastern New Jersey area, is initiating a charity event to benefit a young local girl named Carly born with Congenital Heart Disease.
Congenital Heart Disease is a highly common birth defect and the number one cause of infant fatalities. Almost 100 babies are born with CHD each year, and so far the cause of CHD is undetermined. Carly has Hypo-Plastic Left Heart Syndrome, one of the most severe of forms of CHD, and the Sharer & Associates charity drive is intended to raise money for Carly's hospital bills as well as raise awareness of CHD in nearby communities.
"Carly is struggling, but she's still got a sense of humor and a smile, and our team is going to stand with her to help raise funds for her ongoing treatment," says Donn Sharer, founder and director of Sharer & Associates.
Sharer and his team have built an online social media portfolio and launched an email update system to help share Carly's story with families, community leaders, and business owners in New Jersey and to help advocate for research into CHD. The Sharer team will also be producing a full page article featuring Carly scheduled for release in the next issue of "Our Hometown," a monthly webzine hosted by Sharer & Associates: http://www.sharerandassociates.com/Our-Hometown-Magazine_39.
Sharing Carly's story is only the first of many charitable efforts planned by the Sharer & Associates team. As part of a permanent community involvement program called "Agents of Change," the team plans to work with more New Jersey charities and non-profits in the months ahead, at the rate of one new charity every 60 days.
Readers that want to join Sharer & Associates in the charity event to benefit Carly and her family are encouraged to make a personal contribution to the cause from this page: http://www.sharerandassociates.com/Helping-Carly-Cope-With-Her-Congenital-Heart-Disease_12_community_cause. Readers interested in tracking the new charities, causes, and non-profits that will be supported by Sharer & Associates in the months to come can bookmark the firm's Community Causes list here: http://www.sharerandassociates.com/community-cause.
About Sharer & Associates
As a Personal Finance Representative in Forked River, agency owner Donn Sharer knows many local families. His knowledge and understanding of the people in his community ensures that clients of Sharer & Associates are provided with an outstanding level of service. Donn and his team look forward to helping families protect the things that are most important - family, home, car and more. Sharer & Associates also offers clients a preparation strategy for achieving their financial goals. To contact an expert at Sharer & Associates, visit http://www.sharerandassociates.com/ or call (732) 446-4919 or (609) 971-8300.