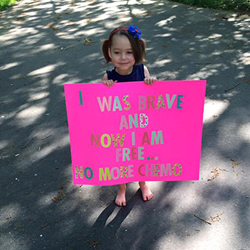 We're inspired by the way Reese overcame her challenges, and we hope this charity event will give the Osmonds a chance to take a breath and spend some quality time with their daughter
Forked River, NJ (PRWEB) October 18, 2016
Sharer & Associates Inc., a full service insurance and financial planning firm with offices that serve the greater northeastern New Jersey area, is announcing a community wide charity drive to assist the family of Reese Madison Osmond, a young local girl who, until recently, was locked in a life or death fight with leukemia.
After 20 spinal taps, 13 hospital stays, 4 major surgeries, 7 ambulance rides, and 11 chemo sessions, little Reese is finally and fully leukemia-free. Her parents are overjoyed to have her back home, however the Osmond family is now facing a mountain of costs and debt as a result of the expensive treatments that assisted Reese in her battle.
"Reese is one of the toughest little girls you're ever going to meet, and most of us aren't surprised that she won her battle with cancer," says Bob Considine, co-owner of Sharer & Associates. Bob's partner, Donn Sharer, feels the same. "We're inspired by the way Reese overcame her challenges, and we hope this charity event will give the Osmonds a chance to take a breath and spend some quality time with their daughter," says Sharer.
Support for Reese has been pouring in over email and social media channels, thanks largely to the help of the Sharer & Associates team. A full page article that tells Reese's story is slated for release in an upcoming of the firm's online periodical "Our Hometown": http://www.sharerandassociates.com/Our-Hometown-Magazine_39.
Recently, Sharer & Associates became part of the national "Agents of Change" movement. As part of this ongoing campaign, the Sharer & Associates team will be selecting and supporting another New Jersey charitable cause or nonprofit organization every other month.
Those who would like to be part of the Sharer & Associates charity drive to support Reese and her family are invited to visit the following page and make an effort to support the cause: http://www.sharerandassociates.com/Helping-Carly-Cope-With-Her-Congenital-Heart-Disease_12_community_cause. Those who want to keep tabs on new charitable causes supported by the Sharer & Associates team can bookmark the firm's Community Causes list here: http://www.sharerandassociates.com/community-cause.
About Sharer & Associates
As Personal Finance Representatives in Forked River and in Millstone Township, agency owners Donn Sharer and Bob Considine know many local families. Their knowledge and understanding of the people in the community ensures that clients of Sharer & Associates are provided with an outstanding level of service. Donn and Bob's team look forward to helping families protect the things that are most important - family, home, car and more. Sharer & Associates also offers clients a preparation strategy for achieving their financial goals. To contact an expert at Sharer & Associates, visit http://www.sharerandassociates.com/ or call (732) 446-4919 or (609) 971-8300.