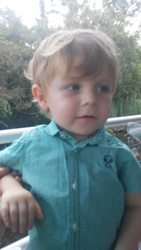 Our hearts broke when we learned about T.J.'s condition and the road ahead of him, but it makes us want to bring the community together and raise funds to ease his troubles and assist in any way we can
Fort Worth, TX (PRWEB) October 13, 2017
ProVest Insurance Group, a family managed insurance and financial planning agency serving communities in the greater Dallas, Miami, and Raleigh regions, is organizing an extended charity drive to benefit the family of T.J., a young boy fighting to overcome a rare and deadly chromosome abnormality.
After struggling since birth with several health challenges, T.J. was later diagnosed with a rare disorder called 4q terminal deletion syndrome, a genetic disease that affects growth and hormone levels. Only one in 100,000 children ever face this disorder, which makes finding treatments for the disease a challenging and costly endeavor.
"Our hearts broke when we learned about T.J.'s condition and the road ahead of him, but it makes us want to bring the community together and raise funds to ease his troubles and assist in any way we can," says Jay Adkins, executive director and principal founder of ProVest Insurance Group.
To organize assistance for T.J. and his family, Adkins and his team are reaching out to business professionals, families, associates, and civic leaders to share his story and generate donations. Additional efforts to draw in support will include an ongoing social media and email information sharing campaign, as well as a newly produced feature article on T.J. which will appear in a soon to be released edition of the ProVest Insurance online magazine "Our Hometown": http://provestinsurance.com/magazines/.
This marks the 10th major charity drive hosted by ProVest Insurance Group in the last two years. As committed affiliates of the "Agents of Change" national charity support initiative, Adkins and his team plan to find and host charity events for new charitable causes or organizations every sixty days.
Additional information and resources on the charity drive to raise assistance for T.J. and his family can be found on the following page, and interested readers are urged by the ProVest team to take action and join the event: http://provestinsurance.com/causes/joining-little-t-j-on-his-road-to-recovery/. To stay abreast of new charity events planned by the ProVest Insurance group in the months to come, readers are invited to bookmark the firm's Community Causes page: http://provestinsurance.com/community/.
About ProVest Insurance Group
ProVest Insurance Group's mission as a team is to provide the best insurance and financial services in the industry. Their number one job is to protect the current assets clients have worked so hard for, and to help them invest so they can retire with the right amount of money. ProVest's success is measured by customer satisfaction and the value they bring. The capable agents at ProVest can be easily reached at 1-855-298-7427.