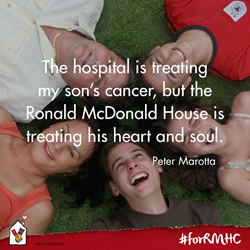 When tragedy strikes, it's crucial to keep families together, and the Ronald McDonald House charity deserves the support of everyone in our community so they can continue doing precisely that
Little Rock, AR (PRWEB) June 15, 2016
Dickinson Insurance and Financial Services, a full service insurance and financial planning firm that provides services to families and businesses in the greater Little Rock area, is teaming up with the Ronald McDonald House organization in a charity drive to benefit the families of children receiving treatment in nearby medical facilities.
The Ronald McDonald House organization is a global non-profit that operates a network of "home away from home" facilities for families of children receiving life-saving medical care. By keeping parents and children together during difficult times, research from RMH shows that children are more likely to recover and respond favorably to medical treatment with their family close by.
"When tragedy strikes, it's crucial to keep families together, and the Ronald McDonald House charity deserves the support of everyone in our community so they can continue doing precisely that," says Jason Dickinson, founder and manager of Dickinson Insurance and Financial.
To gather support from families, community leaders, and business owners throughout the central Arkansas region, Dickinson and his team are creating a social media profile and launching an email update bulletin to share details about the charity event. The Dickinson team is also planning on writing up a feature article for distribution in the next issue of "Our Hometown," a monthly webzine hosted by the firm: http://www.dickinsoninsuranceagency.com/Our-Hometown-Magazine_39.
Dickinson Insurance and Financial has worked with more than a dozen Arkansas-based charities over the past few years. As part of an ongoing community involvement program called "Agents of Change," the firm will continue selecting and working with new local charities at the rate of one every other month.
Those who want to take part in the Ronald McDonald House charity drive are welcome to visit the Dickinson website and make a personal contribution to the effort from this page: http://www.dickinsoninsuranceagency.com/Providing-Comfort-To-Families-With-Ill-Children_23_community_cause. Those interested in finding our more about previous causes and non-profits supported by the Dickinson team are invited to browse the firm's Community Causes here: http://www.dickinsoninsuranceagency.com/community-cause?page=2.
About Dickinson Insurance and Financial Services
The Dickinson Team is proud to be part of a company that has been serving satisfied customers for over 70 years. They offer quality insurance that's affordable and provide easy access for clients to contact them in person, over the phone, or through their website—wherever and whenever clients need. Dickinson knows how important price and excellence in service are in building long-lasting relationships, and they make every effort to secure that loyalty by holding high standards, individually and as a team. To contact an expert at Dickinson Insurance and Financial Services, call (501) 221-3000.