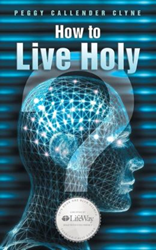 I want readers to be equipped with a victorious mindset that living holy is not only expected of us, but possible for us.
St. Thomas, Virgin Islands (PRWEB) April 15, 2014
Serving as a practical guide to live more consecrated and mature Christian lives, author Peggy Callender Clyne's new book "How to Live Holy" (published by CrossBooks) presents seven principles to help readers achieve a more holy existence.
Clyne says her book was inspired by her more-than-50-year attendance of the Christian Church. While serving as a congregate of the Church, she felt there were many areas of life in which Christians failed to live according to God's holy plan. Although, with the right mindset and a plan of action, Clyne says Christians can be victorious in their holy lives.
"My book relates to today's society because the average Christian is not as mature as he or she could be, which is evidenced by the lack of love and unity in many of our churches," Clyne says. "We have 'conformed to the world' and our lifestyles often betray our Christian doctrine."
"How to Live Holy" presents Christians and nonbelievers with seven steps to living more closely to God's holiness. Clyne uses alliteration in each of the seven principles to solidify the book's concepts in readers' minds; words like "desire", "denying self" and "devotions" signify each one of the book's highlighted doctrines for holy living.
"I want readers to be equipped with a victorious mindset that living holy is not only expected of us, but possible for us," Clyne says.
"How to Live Holy"
By Peggy Callender Clyne
Softcover | 5 x 8 in | 58 pages | ISBN 9781462735617
E-Book | 58 pages | ISBN 9781462735624
Available at Amazon and Barnes & Noble
About the Author
Peggy Callender Clyne is a retired church administrator. She attended the former Barrington College in Rhode Island and holds a bachelor of religious education degree from the former Northeastern Bible Institute in Essex Fells, New Jersey. Peggy resides in the British Virgin Islands with her husband, Freddie, and their family.
CrossBooks, a division of LifeWay Christian Resources of the Southern Baptist Convention, is a Christian publishing imprint committed to bringing more Christian voices into the publishing industry. Established authors, first-time authors, and authors anywhere in between can meet their goals and fulfill their vision for their books by publishing with CrossBooks. CrossBooks' innovative style of publishing blends the best of traditional and self-publishing. While our authors contribute monetarily to cover the cost of publishing, we maintain a strict moral and quality standard that every manuscript must meet for us to publish. For more information on publishing your Christian book with CrossBooks, log on to crossbooks.com or call 1-866-879-0502.