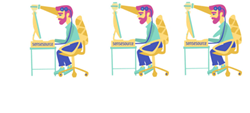 Peili.me is that rare thing: an app that tells the truth.
London, UK (PRWEB UK) 7 November 2014
There are a team of operators wired up to the Internet. The operators are connected to EEG devices and eye-trackers for measuring their neural and physiological reaction to images. The operator sits in front of a screen that flashes the images for milliseconds and that track his brain signals, and other bodily reactions that enable calculation of his emotional response to the image. This data is compiled into a report, which is sent to the user, alongside an interpretation of this data in terms of an attractiveness score.
This is a new paradigm for selfie/rating apps. The company has launched a Kickstarter to get support.Peili.me taps into the subconscious reactions of users, and operators, to give other users completely honest feedback on how they look. It is the ultimate magic mirror.
Ilia Zaitsev, one of the designers of the App said, "The basic premise is this: you take a photo of yourself & you send it into the app. You have 2 options: Crowd-feedback, which is free, or Neurofeedback, which you can either earn or buy. If you select Crowd-feedback your image will be sent to other users. It will flash up on their screens for 100 milliseconds. This doesn't seem like long but it is enough time to engage the reptilian, primal, subconscious part of the brain and produce a reaction."
But the truly interesting bit is the Neurofeedback option. If this option is selected, the image will be sent off to one of the operators.
The App is in beta testing and the company is now seeking support on Kickstarter. a crowd funding campaign.
The launch of the app is scheduled for mid December 2014.