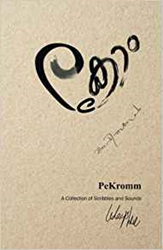 CALICUT, India (PRWEB) June 30, 2017
Author Uday Hue believes that there are no courses to mold a creative person and creativity is found within each personality, in different forms and levels. Exploring his creative potential through music and words, he tried to penetrate his mind and allowed poem to flow through different tunnels to seek bright circles that bounced and rippled through a labyrinth. Aiming to put his thoughts into a poetic form of literature, he unintentionally put together "PeKromm: A Collection of Scribbles and Sounds" (published by Partridge Singapore). The book attempts to reconfirm the limitations of the human types in its totality.
According to Hue, the sound "PeKromm" does not mean anything but resembles a croaking of a tiny frog. Furthermore, the scribbles and sounds represent language in another form. His main aim is to destruct the stereotype assembly line of the subjects and form of a book.
"There are Artistic and Creative works. The first one we can learn and reproduce, the second, we couldn't. All the time an original work will emerge as a new moment. I believe my book is unexpected, like every new lightning, so it will never bore an admirer who welcomes a fresh unthought-of perspective," Hue declares.
With the use of digital drawing and pen-writing that reflects all of the author's emotions and its imperfections, he introduces to the readers what could possibly be a futuristic writing on the wall. Hue invites them to discover a vibration of anonymous being and meaninglessly spreading synonymous sounds, "PeKroom."
"PeKromm: A Collection of Scribbles and Sounds"
By Uday Hue
Softcover | 5.5x8.5in | 260 pages | ISBN 9781543741469
E-Book | 260 pages | ISBN 9781543741452
Available at Amazon and Barnes & Noble
About the Author
Uday Hue is a photographer, music composer, poet, writer and a curator. He is also a commercial and documentary filmmaker by profession. He is from India, but settled in United Arab Emirates for the past 12 years. He has achieved hands on experience in various aspects of art forms - creator of two banners – PhotoArtMusic and Avigna. He also composed a new genre of music called Synthphonic Program Music for the album, "Gajaayana – A Wild Walk," presently heard through more than 95 channels worldwide, including Amazon, iTunes, Apple and much more.
Partridge Singapore, an imprint in partnership with Penguin Random House Singapore, aims to help writers in Singapore, Malaysia, and the rest of Southeast Asia become published authors. Partridge Singapore gives authors in the region direct access to a comprehensive range of expert publishing services that meet industry standards but are more accessible to the market. For more information or to publish a book, visit partridgepublishing.com/singapore or call 800 101 2657 (Singapore) or 1 800 81 7340 (Malaysia). For the latest, follow @PartridgeSG on Twitter.
###