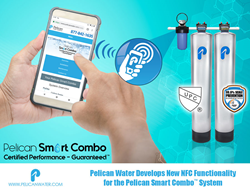 DELAND, Fla. (PRWEB) November 13, 2018
Pelican Water Systems is incorporating cutting-edge NFC functionality into its best-selling Smart Combo™ Whole House Filter and Salt-Free Softener System to streamline care and maintenance of the system. This development will increase the longevity of the flagship combination filter and softener by making installation and upkeep easier than ever.
With the ability to access guides, FAQs, and maintenance information by simply placing their smartphones near their Smart Combo™ system users will have total control over every aspect of their Pelican Water filter and softener. Customers simply scan a sticker on the system with the camera on their mobile device to instantly access the filtration and softening system using NFC technology.
NFC, or Near Field Communication, allows a user's smartphone to wirelessly connect to the Pelican Water system in their home without the use of LTE, 3G, or Wi-Fi. The connection costs nothing to use, and is reestablished any time the customer is within the field of their Smart Combo™ system.
The integration of NFC technology with the Smart Combo™ system from Pelican Water will improve the overall performance of the filter and softener, ensuring customers remember when to perform maintenance and how to effectively order and replace filters. Pelican Water is the only water filtration expert who will have this technology on the market for use with a whole house water filtration and softening system.
Pelican Water will include information about the uses and specifications of our NFC functionality as part of a landing page revamp for the Pelican Smart Combo™ Whole House Filter & Salt-Free Water Softener. The update to the Smart Combo™ product page will showcase the numerous benefits of choosing a Pelican Water Smart Combo™ Whole House Filter & Salt-Free Softener: 99.6% scale reduction as certified by the DVGW, chlorine reduction up to 97%, design that eliminates the need for electricity or salt brine discharge, and the convenience of NFC functionality.
About Pelican Water Systems
PelicanWater.com is the official, factory-direct retail website for Pelican Water Systems, providing professional knowledge and leading technologies in whole house water filtration, countertop water filtration systems, UV bacteria disinfection systems, and salt-free water softening and conditioning systems. Pelican Water products use cutting-edge technology to enable customers to go green by eliminating wasteful and harmful salt brine discharge that is polluting our valuable fresh water resources. Pelican Water is also proud to offer under-counter reverse osmosis systems that are small enough for practical use in RVs and marine vessels. Pelican Water continues to be the global market leader in salt-free water softening systems. For more information about Pelican Water Systems, visit PelicanWater.com.