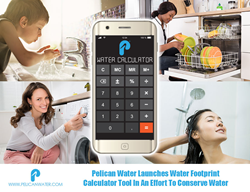 DELAND, Fla. (PRWEB) August 16, 2018
Pelican Water Systems, the market leader in environmentally conscious and affordable water filtration and salt-free softening systems, is pleased to unveil a new interactive tool that calculates the overall water footprint in a household. The water footprint calculator is the latest online tool that Pelican Water has developed to help Americans conserve water and understand how their habits can affect the environment and their monthly water bill.
In response to the ongoing water shortages in polluted or drought-stricken regions across the country, Pelican Water researched the key data to help break down every aspect of a person's water usage. When water supplies are strained for public utilities water treatment becomes trickier and the overall water quality piped to residents can suffer greatly. This tool pinpoints areas where people are using too much water to help everyone transition to a more water-conscious lifestyle.
The methodology behind the calculator takes into account every origin point for water usage in a home. Showers, toilet flushes, dishwashers, sinks, laundry machines, outdoor hoses, and all other factors are considered. While clicking through the questions on the calculator users are educated on the benefits of low-flow toilets, showerheads, and faucets. They also receive helpful tips on reducing water usage by making adjustments to their routine. Grounded in national studies and data, this calculator tool provides a clear picture of one's water footprint in just a few moments.
Consumer advocacy is a central component of Pelican Water's mission. In addition to treating home water supplies for contaminants Pelican Water helps customers conserve water and make environmentally friendly choices as consumers during installation and throughout the lifecycle of their water filtration systems. This online tool is yet another way to connect Americans to the information they need to live a lifestyle that keeps water clean and contaminant-free for years to come.
About Pelican Water Systems
PelicanWater.com is the official, factory-direct retail website for Pelican Water Systems, providing professional knowledge and leading technologies in whole house water filtration, countertop water filtration systems, UV bacteria disinfection systems, and salt-free water softening and conditioning systems. Pelican Water products use cutting-edge technology to enable customers to go green by eliminating wasteful and harmful salt brine discharge that is polluting our valuable fresh water resources. Pelican Water is also proud to offer under-counter reverse osmosis systems that are small enough for practical use in RVs and marine vessels. Pelican Water continues to be the global market leader in salt-free water softening systems. For more information about Pelican Water Systems, visit PelicanWater.com.