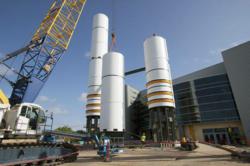 The solid rocket booster exhibit was a great project, one that our team took a lot of pride in.
Anaheim, CA (PRWEB) July 02, 2013
This past weekend, Pendarvis Manufacturing's steel fabrication work was unveiled as part of the new Space Shuttle Atlantis Exhibit at the Kennedy Space Center in Florida. Pendarvis Manufacturing, an Anaheim precision machine shop and fabricator, built hundreds of steel sub-assemblies that were used in the construction of the 184-foot-tall replica of the Atlantis' solid rocket boosters and external tanks. The full-scale replica resides just outside the main entrance to the new exhibit hall that houses the Space Shuttle Atlantis.
Thrilled to be part of such an interesting and meaningful project, Pendarvis Manufacturing provided structural steel components that made up the internal structure of the external tanks. Using pieces of wide flange beam, structural steel tubing and high-strength steel plates, Pendarvis provided over 300 sub-assemblies used in the final assembly of the solid rocket boosters. The total weight of steel pieces Pendarvis provided for this project was over 255,000 pounds.
"Because the installation was at the Kennedy Space Center, the overall structure was designed by a Florida structural engineering company to withstand potential hurricanes," says Brian Pendarvis, owner of Pendarvis Manufacturing. "The largest pieces we provided were the 48 columns which were 40 feet long and weighed an average of 4,300 pounds each."
Pendarvis partnered with a local company that had the task of the assembly here in Southern California and the final assembly and finish work in Florida. As each 40 foot long section of steel and fiberglass was completed locally, the structures were placed on wide-load trailers and made their way to Florida by road where they were stacked and welded together to complete the replica.
"The solid rocket booster exhibit was a great project, one that our team took a lot of pride in," says Brian Pendarvis.
About Pendarvis Manufacturing
Since 1982, Pendarvis Manufacturing has provided precision metal fabrication, custom machining and certified welding services to companies throughout the Western US. Serving a wide range of industries, Pendarvis has the expertise to manufacture high quality custom parts of all shapes, sizes and complexities. Their experienced staff offers turnkey services to take your part from design to completion. More information about Pendarvis Manufacturing can be found at http://www.pendarvismanufacturing.com.