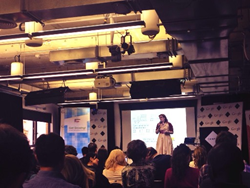 (PRWEB UK) 17 April 2014
Penelope has joined forces with partners from a range of business sectors, in the initiative backed by the Department for Business Innovation & Skills, to help small businesses act more strategically in their approach to growth. In a series of events between April and November, the Roadshows will offer valuable 'know how' along with practical solutions to encourage business owners to find time to work on their business as well as in it.
Stephanie Vaughan Jones, Channel Manager at Penelope and Moneypenny, kick-started the relationship with a presentation entitled 'The Ten Commandments of Customer Service' at the Roadshow's launch event which was held at the Google Campus, London. In it she outlined how small businesses have the opportunity to stand out from their competition, which quite often comes from much larger businesses, by delivering outstanding service.
Stephanie, who will be giving her presentation at all the Roadshow workshops at venues up and down the UK, enjoyed the first event. She said: "We are delighted to be a partner in 'Get Growing'. There was a great buzz about it and it was fantastic to see so many like-minded people with interesting ideas on how to grow a small business. I am looking forward to the next sessions and to meeting more wonderful people from growing businesses who are helping to put the great into Great Britain."
Skills and Enterprise Minister Matthew Hancock says: "Small businesses are the lifeblood of our economy and it is essential they are given the right advice and guidance for them to start-up and scale up. It is an important part of our long term economic plan that we provide them with the right environment to make the most of their ambition and aspiration. The Great Business Roadshow will mean that the country's leading small business experts will be on hand throughout the country to provide insights on how to help your business grow."
Here's the full list of events that are taking place:
12th May - Cambridge, The Hauser Forum
12th June 2014 - Birmingham, Innovation Campus
June 2014 - Liverpool
June 2014 - Sheffield
23rd July 2014 - Cardiff, Digital Cardiff Showcase
24th July 2014 - Bristol, The Bristol SETsquared Centre
July 2014 - Brighton
8th October 2014 - Newcastle, City Library
October 2014 - Edinburgh
20th November 2014 - Canterbury, ABode Hotel
To find out more about Get Growing, The British Business Roadshow and to book a place at a workshop near you visit http://www.freeagent.com/l/get-growing-workshop.
For more on Penelope or Moneypenny: http://www.penelope.co.uk / http://www.moneypenny.co.uk.
About Moneypenny
Moneypenny looks after telephone calls for businesses of all shapes and sizes – from sole traders, right up to multinational corporations. For larger companies, Moneypenny can either support an existing reception team or provide a fully outsourced switchboard function. Based in Wrexham, and Auckland, New Zealand, Moneypenny has over 350 staff, a figure that is growing at a rapid rate. The company was founded by a brother and sister team in 2000 and the company now handles in excess of 8.2 million calls a year for more than 6,500 UK businesses. Its sister product Penelope was launched in 2013. Moneypenny is proud to have won the Queen's Award for Enterprise and was in The Sunday Times 100 Best Companies to Work for 2009/11/13.
About Penelope
Launched in 2013, Penelope is the newest creation from call handling experts, Moneypenny. A virtual phone system for small businesses, Penelope does all a traditional phone system can do and more. Together, Penelope and Moneypenny handle in excess of 8.2 million calls a year for more than 6,500 UK businesses.