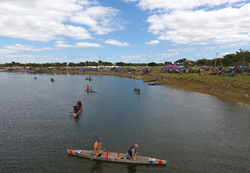 At PENETRON, we strongly believe the future of our industry lies in the knowledge and strength of the young designers, engineers, and producers now completing their education.
East Setauket, New York (PRWEB) March 30, 2017
At this year's ASCE Southeast Student Conference (March 16-18, 2017) in Florida, civil engineering students competed in a variety of technical events, such as the remarkable "concrete canoe competition." PENETRON was on hand as event sponsor and enthusiastic fan.
"The ASCE Conference is where the PENETRON motto, "Water Meet Your Match" finds its most visible and entertaining expression through many challenging contests," exclaims Christopher Chen, Director of The PENETRON Group.
This year's Southeast Student Conference was hosted by Florida Atlantic University in Boca Raton, Florida. This three-day annual event drew over 1,200 students from 26 universities across the Southeast region of the United States, including University of Florida, University of Alabama Huntsville, and University of Tennessee Chattanooga, as well as from as far away as Puerto Rico (University of Puerto Rico Mayaguez) and China (Tongi University).
Each year, a series of contests are designed to showcase student knowledge, both theoretical and practical. Among the challenges:

Concrete Canoe Competition – construct a functional canoe out of concrete
Steel Bridge Competition – design and build a bridge with steel structural elements
Concrete Frisbee Competition – construct and fly a concrete Frisbee
Wood Dam Competition – design, build and test a wooden dam
Mystery Competition – challenge is unveiled only on the day of the contest
This year's Mystery Competition required a team's representative to move a raw egg from the top of a sand pile and place it on top of a separate sand pile using a small spoon fixed to a bucket tooth of a backhoe.
"Of course, my favorite was the Concrete Canoe Competition," said Mr. Chen. "This contest requires students to not only design, construct and race a concrete canoe, but also give a presentation on their design and construction efforts to a panel of judges. Winners of the regional event advance to the National Finals."
For over a decade, PENETRON has contributed both materials and technical support at the National, Regional, and Local levels to various ASCE Chapters around the country.
"At PENETRON, we strongly believe the future of our industry lies in the knowledge and strength of the young designers, engineers, and producers now completing their education," adds Mr. Chen. "Participating in the ASCE events confirms – time and again – that the coming generations not only have relevant knowledge of today's technology, but are also able to question traditional practices and identify new and more effective technologies and solutions. This mindset is the foundation of The PENETRON Group and we are committed to supporting the future of concrete by investing in the future of people."
The oldest national engineering society in the United States, the American Society of Civil Engineers (ASCE) represents members of the civil engineering profession worldwide. It is also the world's largest publisher of civil engineering information and standards. Each year, the ASCE offers continuing education programs to over 55,000 engineers and hosts more than 15 annual and specialty conferences and more than 300 live Web seminars.
The PENETRON Group is a leading manufacturer of specialty construction products for concrete waterproofing, concrete repairs and floor preparation systems. The Group operates through a global network, offering support to the design and construction community through its regional offices, representatives and distribution channels.
For more information on PENETRON waterproofing solutions, please visit penetron(dot)com or Facebook(dot)com/ThePenetronGroup, email CRDept(at)penetron(dot)com, or contact the Corporate Relations Department at 631-941-9700.