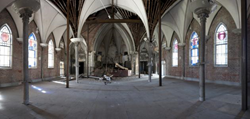 PENETRON is proud to be a part of a project that will help keep the music playing in this vibrant city.
EAST SETAUKET, N.Y. (PRWEB) January 15, 2018
The Bell Artspace Campus, a new live/work development in New Orleans, opened its doors in January 2018. PENETRON ADMIX ensured the foundation would remain waterproof and durable.
This $38 million redevelopment of the Andrew J. Bell School restored four dilapidated stone and brick buildings located on two city blocks in the heart of the New Orleans Tremé district. Originally built as a convent in 1904 and used later as a public school, the renovated campus has now been transformed into affordable artist housing and programming space, featuring 79 apartments (a total of 148,000 square feet / 13,800 m2) situated around an open green space.
"Over the past decade, artists and musicians have been priced out of New Orleans neighborhoods, with rents almost doubling since Katrina in 2005," says Christopher Chen, Director of The PENETRON Group. "The Bell Artspace Campus, adjacent to the city's renowned French Quarter, has the potential to become a vibrant community center – and provide housing to artists who are an essential part of so much of the New Orleans economy."
The Bell Artspace Campus living quarters comprise studio, one-, and two-bedroom "live-work" apartments, with rents ranging from $260-$727 a month. The Artspace organization targets low-to moderate-income artists, cultural workers, and their families for this development. Rents will vary depending on a tenant's income bracket, thanks to government subsidies like federal low-income housing tax credits (a concept pioneered by Artspace in the late 1980s in Minneapolis).
To protect the new development from the high-water table common throughout New Orleans and ensure the durability of the concrete in the four buildings,PENETRON ADMIX was used to treat over 800 yards3 of concrete used for the structural slabs.
Because water and waterborne contaminants (found in ground water) penetrate concrete mainly through capillary absorption and hydrostatic pressure, mastering this problem demands a molecular level solution (see 1,000x SEM image of PENETRON crystals). The active ingredients in PENETRON ADMIX react to the moisture in fresh concrete to generate a non-soluble crystalline formation throughout the pores and capillary tracts of the concrete. This permanently seals the microcracks, pores and capillaries against the penetration of water or liquids from any direction, protecting the concrete from deterioration, even under hydrostatic pressure.
"Because of the Bell School's history of music, the new Bell Artspace Campus will soon be a special place for New Orleans," adds Mr. Chen. "PENETRON is proud to be a part of a project that will help keep the music playing in this vibrant city."
The PENETRON Group is a leading manufacturer of specialty construction products for concrete waterproofing, concrete repairs and floor preparation systems. The Group operates through a global network, offering support to the design and construction community through its regional offices, representatives and distribution channels.
For more information on PENETRON waterproofing solutions, please visit penetron(dot)com or Facebook(dot)com/ThePenetronGroup, email CRDept(at)penetron(dot)com, or contact the Corporate Relations Department at 631-941-9700.