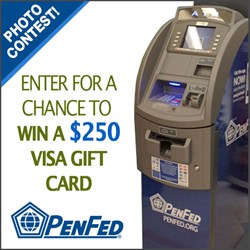 This Facebook contest is uniquely designed to engage curiosity, increase excitement and raise awareness of PenFed's new, convenient locations.
Alexandria, VA (PRWEB) November 08, 2013
PenFed (Pentagon Federal Credit Union) announced today that its Rite Aid PenFed ATM Facebook photo contest is live on its Facebook page starting today at 9 a.m. EDT through December 16, 2013 at 11:59 a.m. EDT. PenFed's contest is designed to raise awareness of its Welch ATMs at select Rite Aid locations in Maryland, Virginia, and the greater D.C. Metro area.
Entrants will be asked to post a photo of themselves alongside their Rite Aid PenFed ATM as a reply in the Facebook contest thread highlighted on PenFed's Facebook page as well as state the location of the Rite Aid for their chance to win a $250 Visa Gift Card. The winner will be the person whose photo has the highest number of Facebook "Likes." PenFed membership will not increase chance of winning.
"Welch ATM is excited to be partnering with PenFed to provide expanded convenience for members and non-members at Rite Aid pharmacies," said Christy Nusz, director of financial sales at Welch ATM. "This Facebook contest is uniquely designed to engage curiosity, increase excitement and raise awareness of PenFed's new, convenient locations."
This photo contest not only creates PenFed ATM awareness for both PenFed members and the public, alike, but provides PenFed with the opportunity to increase its brand awareness in Rite Aid stores throughout these regions.
To locate all PenFed branded ATMs, visit http://www.penfed.org/PenFed-ATM-Locations/ and for official contest rules please visit the contest thread found on PenFed's Facebook page.
About PenFed (Pentagon Federal Credit Union)
Established in 1935, PenFed is one of the largest credit unions in the country serving over 1.2 million members worldwide; with more than $16 billion in assets. Its longstanding mission has been to provide superior financial services, responsive to members' needs in a cost effective manner. PenFed offers market leading mortgages, automobile loans, credit cards, checking, and a wide range of other financial services with its members' interests always in mind. Serving a diverse population, there are hundreds of ways to become a PenFed member; including numerous association members and employee groups. PenFed is federally insured by the National Credit Union Administration, does business in accordance with the Federal Fair Housing Law and the Equal Credit Opportunity Act, and is an equal housing lender.
To learn more about PenFed and find out how to become a member, call 800.247.5626 or visit PenFed.org.
About Welch ATM Welch ATM is an independent ATM company founded in 1973. With over three decades of ATM industry experience and service, Welch has developed relationships with over 1,000 financial institutions and major retailers. Welch ATM is a top branding partner in the industry, focusing on customer satisfaction and working individually with each client to create strategies that best fit their goals and needs. Welch is a privately held company with over 22,000 ATMs under management nationwide.