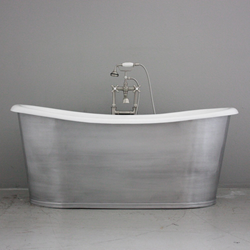 Penhaglion introduces revolutionary size cast iron French Bateau.
Saint Petersburg, Florida (PRWEB) June 03, 2014
Penhaglion is introducing a new product size to meet consumer's demands. With more than a decade of experience in fine specialized bathroom décor, Penhaglion responds by filling the need of their customers.
In the past year, the increasing demand for a smaller size cast iron French Bateau bathtub has led to the production of the Penhaglion 59" version of the popular style. The 59" French Bateau will be available in Mid June and will be offered in both a clawfoot and skirted tub style. Penhaglion's famous finishes will be available for this 59" bateau. The company is well known in the specialized industry for their various finishes which bring out the natural beauty of the metal tubs.
Also in production for Penhaglion is a Brass Skirted tub, which is absolutely gorgeous. Penhaglion believes that adding brass to their skirted tub range will fully complete their product line. Penhaglion already carries tubs in copper, aluminum, and steel, so no matter what; Penhaglion can accommodate a customer's needs.
This new tub line is not the first product launch Penhaglion has unveiled to the public this spring. Earlier in May, the owners introduced a new exclusive range of Aluminum Skirted bathtubs. The company was among the first artisans to venture into a collection of Aluminum Skirted tubs, and the line has been highly received by not only consumers, but professional designers and builders.
About Penhaglion Inc.:
Penhaglion, Inc. supplies specialized, exclusive, and beautiful Clawfoot tubs and Bateau Cast Iron Bathtubs. Wide selections of luxurious Bateau Cast Iron Clawfoot Bathtubs at the most competitive prices are available at http://www.penhaglion.com. The luxurious appearance combined with a practical function has made claw foot tubs timeless. If you are looking for a beautiful clawfoot tub from a company with an exceptional industry reputation and uncommon quality, look no further than Penhaglion, Inc.