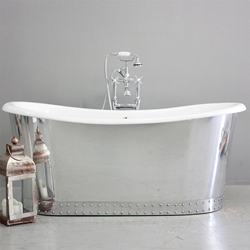 Penhaglion artisans present a new line of hand finished Aluminum Skirted tubs.
St. Petersburg, Florida (PRWEB) May 20, 2014
Penhaglion, a leading maker of artisan crafted designer bathtubs, announces a new range of exclusive Aluminum Skirted tubs. Penhaglion is one of the first companies to venture into this collection of tubs, which is preferred by builders and designers. Each of Penhaglion's products are exclusively prepared and presented by high skilled artisans to ensure a superior level of quality.
Over time, aluminum has been proven to be a better building material to use when a product is subject to water conditions. Penhaglion, an industry expert, has the largest range of cast iron Aluminum Skirted tubs available. The makers of Penhaglion tubs are thrilled to unveil their new line to customers.
To accompany Penhaglion's Aluminum Skirts, consumers will find various finishes offered to bring out the beauty of natural aluminum. Additionally, different styles such as a traditional French Bateau or a classic Double Ended are available in the different finishes. To browse various styles and finishes, visit http://www.penhaglion.com. The makers of Penhaglion bath tubs present a fine line of bath décor built to last a lifetime.
Tub models such as The Wokingham show aluminum's beauty when highly polished to a mirror finish. The studded base around the tub and up the side gives the classic tub a modern flare. The Pershore, another model, is unique in how it shows the variation of color aluminum can have. Tub sizes range from 61" to 73'', so no matter what; Penhaglion can accommodate a customer's needs.
Designers and builders have been very pleased with the various sizes, finishes, styles, and price points, making these tubs one of the highest demanding product lines from Penhaglion.
About Penhaglion Inc.:
Penhaglion, Inc. supplies specialized, exclusive, and beautiful Clawfoot tubs and Bateau Cast Iron Bathtubs. Wide selections of luxurious Bateau Cast Iron Clawfoot Bathtubs at the most competitive prices are available at http://www.penhaglion.com. The luxurious appearance combined with a practical function has made claw foot tubs timeless. If you are looking for a beautiful clawfoot tub from a company with an exceptional industry reputation and uncommon quality, look no further than Penhaglion, Inc.