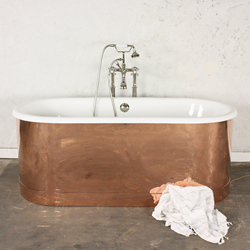 In its natural state, copper is a beautiful and exotic material that adds real character to a bathroom. When highly polished or allowed to age and patina, it can become even more amazing.
Saint Petersburg, Florida (PRWEB) June 08, 2016
The Penhaglion, Inc. team is excited to announce their new Copper Tones Series of fabulous and unique bathtubs. With requests flowing in from designers and architects alike on an almost daily basis, Penhaglion has been busy over the past year developing an entire new range of both solid copper skirted and copper gilded enameled cast iron bathtubs
Unlike many of their competitors, Penhaglion, a Florida-based producer of cast iron, claw foot and vintage style bathtubs, hand finishes every single product in the United States. All craft gilding, the entire production of the solid copper skirts and all artistic aging takes place at their St. Petersburg, Florida workshops.
Ed Malek, General Manager of Penhaglion notes that "Over the past three to four years, the choice for exciting copper exteriors on our tubs has been limited to but a few. Due to a substantial increase in requests and the fast growing popularity of our existing copper finishes, we decided to produce and offer copper bathtubs as they have never been presented before."
Malek continues, "In its natural state, copper is a beautiful and exotic material that adds real character to a bathroom. When highly polished or allowed to age and patina, it can become even more amazing."
The 'Copper Tones' Series from Penhaglion already includes The Bishopsgate mirror polished solid copper skirted double ended tub in several sizes, The Carmarthen 73" French Bateau aged solid copper skirted bathtub, and The Alexander 73" French Bateau copper gilded and aged clawfoot tub.
Over the next few weeks and months, Penahglion will be increasing the 'Copper Tones' range to incorporate its unique Lanercost aged copper finish, as well as several other extremely innovative antiqued and mirror polished copper exterior tub shapes and sizes.
While the mirror polished finishes will be supplied with a non-lacquered exterior, Penhaglion will offer clients the choice of a protective lacquer on the exterior surface of all the patina solid copper finishes it will have on offer. All gilded tubs will require a protective lacquer which will be factory applied before shipping.
The Carmarthen 73" is a stunningly beautiful French Bateau bathtub with a solid copper aged exterior. The artisans at Penhaglion set out with the goal of presenting a bathtub with the appearance of five to ten years of natural patina. This cast iron tub boasts a bright white enameled interior, with an aged solid copper exterior, and is offered as standard with the Penhaglion No.97 tub filler and drain in oil rubbed bronze.
The Alexander 73" Cast Iron French Bateau clawfoot bathtub is finished with copper gilding that shows a gorgeous weathered aged exterior. To highlight and protect the gilded surface, three coats of high grade, high gloss lacquer are applied. This stunning cast iron tub is finished with a bright white enameled interior, and includes heavy cast imperial, polished nickel claw feet with matching faucet and drain.
The bright, mirror polished exotic copper exterior of the Bishopsgate double ended bathtub package is available in three different sizes to suit all bathrooms large and small. With a non-lacquered finish, the Bishopsgate can be allowed to take on its own natural patina in its owner's home or it can easily be maintained to a highly polished mirror finish.
More new bathtub styles and exotic copper finishes will be coming off the pipeline from Penhaglion very soon!
The makers at Penhaglion note that all Copper Tones Series packages are specially prepared for each client, and interested buyers are welcome to choose their own foot and faucet finish.
About Penhaglion Inc.:
Penhaglion, Inc. supplies specialized, exclusive, and beautiful clawfoot tubs and Bateau Cast Iron Bathtubs. Wide selections of luxurious Bateau Cast Iron Clawfoot Bathtubs at the most competitive prices are available at http://www.penhaglion.com. The luxurious appearance combined with a practical function has made claw foot tubs timeless. If you are looking for a beautiful clawfoot tub from a company with an exceptional industry reputation and uncommon quality, look no further than Penhaglion, Inc.