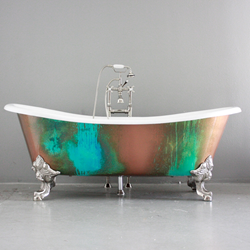 Saint Petersburg, Florida (PRWEB) December 31, 2014
2014 was a busy year for the management and artisans at Penhaglion. Today as the year comes to a close, the management reflect on product launches that took place over the past months, and discuss what sets their tubs apart from the rest.
Penhaglion Cast Iron tubs have touched the hearts of every individual who owns one. Each Penhaglion tub is hand finished in the Florida studio, so no two tubs are ever identical.
Penhaglion continues to innovate and excite the industry through new product launches. Earlier this year, the company presented a new size of one of their most popular models, the "Lindisfarne" cast iron French bateau bathtub, which was very well received.
"We have many unique finishes, one of them being our hand burnished clawfoot tubs," notes general manager Edward Malek, "the tub actually shows the casting marks and natural color of iron and graphite."
Malek continues, "The exquisite 'Lanercost' clawfoot tub is aged using our special solutions to show the appearance of a tub that has been sitting outside, exposed to earth's natural conditions, for several years. In fact, this tub has been purchased by a few customers to be placed in their back garden. What sets our company apart from the rest is the fact that the artisans that work on Penhaglion tubs feel that they are creating a work of art and are passionate about producing a special product."
The skirted tubs from Penhaglion are equally unique and special. The very popular "Whitby" model displays a true aged chrome finish. It's unique with a variation in color and pattern, which creates an extraordinary tub.
Finally, the "Pershore", which boasts a fabulous brushed aluminum exterior, is unique in how it shows the beautiful shades of aluminum.
Penhaglion can even customize a tub if one is looking for a special finish or color!
Many designers and builders have said that these tubs create a special bathroom for their clients and helps stay within project budgets.
Penhaglion is looking forward to another successful and innovative year in 2015!