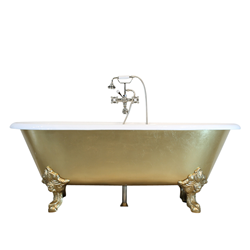 Artisan Crafted Designer Bathtubs
Saint Petersburg, FL (PRWEB) March 11, 2015
Penhaglion Inc. is starting the launch of new products for the first half of the year. Having invested heavily in some new tub designs, Penhaglion will be offering four completely new tub shapes in various sizes. These new designs will be both clawfoot tubs and freestanding skirted tubs. With the new tub molds now reaching completion, the new offerings will start showing up on the website http://www.penhaglion.com in April 2015.
To compliment what is probably the most innovative selection of top quality, cast iron freestanding tubs on the market today, Penhaglion is also offering some great new exterior finishes like gold leaf and a distressed silver leaf. As with the majority of Penhaglion tub styles, clients will have the choice of three sizes ranging from 59" to 73" long, to suit every bathroom and bather. Penhaglion employs highly skilled artisans and artists to ensure a superior level of quality in all products.
Ed Malek from Penhaglion says that "designers, architects and builders are always seeking a greater choice as they strive to offer their customers something extra special for their new bathroom designs. Even in second bathrooms with smaller spaces, Penhaglion clients see the benefits of using something special for the centerpiece in every bathroom."
With its full array of bathtub sizes, Penhaglion is rising to the occasion. Keep an eye on this space, in the second half of the 2015 more exciting new tub shapes and designs will be rolling off the Penhaglion production line.
About Penhaglion Inc.:
Penhaglion, Inc. supplies specialized, exclusive, and beautiful Clawfoot tubs and Bateau Cast Iron Bathtubs. Wide selections of luxurious Bateau Cast Iron Clawfoot Bathtubs at the most competitive prices are available at http://www.penhaglion.com. The luxurious appearance combined with a practical function has made claw foot tubs timeless. If you are looking for a beautiful clawfoot tub from a company with an exceptional industry reputation and uncommon quality, look no further than Penhaglion, Inc.