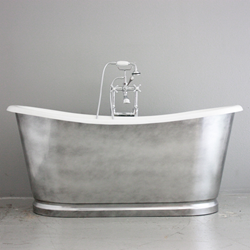 Penhaglion is tapping into a revolutionary product
Saint Petersburg, Florida (PRWEB) October 21, 2015
The artisans at Penhaglion are excited to announce their latest innovative product, an air-jetted, freestanding cast iron bath tub. Penhaglion is the first cast iron tub manufacture to offer such a pioneering style. The organization expects the model to be officially released and ready for purchase by the end of 2015.
Penhaglion, a Florida-based maker of cast iron, claw foot and vintage style bathtubs hand finishes all of their products in the United States, unlike many of their competitors.
Ed Malek, General Manager of Penhaglion is electrified about this latest release. He notes, "Penhaglion is tapping into a revolutionary product. We believe an air jetted cast iron tub will be a game changer, since we might be the only company producing them."
Malek continues, "We cannot find any other cast iron manufacturers doing this, certainly not in the United States."
The first bathtub to be released with air jets will be Penhaglion's most popular cast iron, French Bateau skirted tub, The Whitby 68".
Each air-jetted, freestanding cast iron bath tub will be specially prepared by Penhaglion. The artists have spent time on the new design to ensure the new jets will not take away from the original, elegant look of the Whitby 68".
Ed Malek speaks of the new air-jetted design. "The control switch will be placed on a pole in the same finish as the tub filler and drain, for a consistent look."
Malek finishes, "The control switch will allow variable speeds too. This new product from Penhaglion will fill the gap of having an elegant cast iron tub, without having to sacrifice the option of relaxing air bubbles."
Penhaglion expects to release their first air jetted tub by the end of the year. Designers, builders, contractors and others will not only be able to offer their clients a fabulous Penhaglion tub, but can soon also offer an option to air jetted.
Stay tuned in the coming weeks for the official launch of the Penhaglion Air Jetted Cast Iron Bathtub.
About Penhaglion Inc.:
Penhaglion, Inc. supplies specialized, exclusive, and beautiful clawfoot tubs and Bateau Cast Iron Bathtubs. Wide selections of luxurious Bateau Cast Iron Clawfoot Bathtubs at the most competitive prices are available at http://www.penhaglion.com. The luxurious appearance combined with a practical function has made claw foot tubs timeless. If you are looking for a beautiful clawfoot tub from a company with an exceptional industry reputation and uncommon quality, look no further than Penhaglion, Inc.