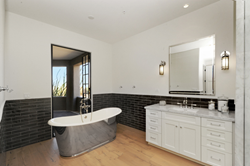 Saint Petersburg, FL (PRWEB) August 19, 2014
Penhaglion, Inc. offers unique, high quality, cast iron claw foot bath tubs for designers, builders, and homeowners alike. The owners of Penhaglion are thrilled to share that several of their hand-finished products will be included in homes designed and built by Skapa Properties, an innovative real estate and construction company based in Arizona.
Bryan Thompson of Skapa Properties speaks to the construction organization's unique name. "The word skapa translates to 'create' in Swedish and we believe this exemplifies our team's approach. We continuously create innovative solutions during the acquisition, finance, design, and execution phases of each project." He continues, "Skapa's vertically integrated team is a collection of real estate development, design, and construction professionals that have a passion for fine homebuilding, design, and architecture."
The makers of Penhaglion tubs also hold a passion for fine design.
"We want to offer unique, top quality products to our clients," states Penhaglion's General Manager Edward Malek. "All of our tubs are hand finished in the USA. Our production and finishing methods ensure that no two bath tub creations are identical."
Penhaglion guarantees a superior level of quality, as the company employs highly skilled artisans to craft their beautiful tubs. Several custom tubs were created for Skapa Properties, and included in newly built Arizona homes.
Thompson notes, "Skapa combines the experience and management capabilities of a large developer with the personal attention and service of a small firm. Our professionals have extensive experience managing large, complex projects and bring the processes and procedures learned over decades to each and every home we design and build."
For more information about Skapa, visit http://www.skapaproperties.com/.
About Penhaglion Inc.:
Penhaglion, Inc. supplies specialized, exclusive, and beautiful Clawfoot tubs and Bateau Cast Iron Bathtubs. Wide selections of luxurious Bateau Cast Iron Clawfoot Bathtubs at the most competitive prices are available at http://www.penhaglion.com. The luxurious appearance combined with a practical function has made claw foot tubs timeless. If you are looking for a beautiful clawfoot tub from a company with an exceptional industry reputation and uncommon quality, look no further than Penhaglion, Inc.