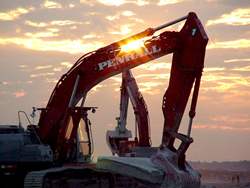 "Safety policy is an asset and disregarding it can change your life." - Kevin Bailey
Los Angeles, CA (PRWEB) March 13, 2015
The Annual Penhall Company Safety Conference was held on February 5, 2015 in Los Angeles, California. In attendance were 160 employees which included a selection of management and record number 74-crew members. The conference mission was to emphasize the importance of safety measures in order to avoid accidents every day. The Penhall Company Safety Conference, which celebrated its thirteenth year, continues to be an event that relays strong messages, encourages participation and enables Penhall employees to build one team with one goal in mind-ZERO ACCIDENTS ALWAYS.
The most valuable asset to Penhall Company is their employees. In a post-safety conference news letter sent to all active Penhall employees highlights were shared, "often the most powerful messages to promote safer behavior are real life stories of loss due to a poor safety decision."
Penhall Company chose to bring a real life experience of loss by inviting guest speaker Kevin Bailey to share his own story. Mr. Bailey exposed details of his life-changing accident, the recovery process and the acceptance he has come to be at peace with, and the challenges he still faces today.
While working in October of 1986 on a neighbor's farm, Kevin became entangled in a rotating shaft of a Hay Baler. The results: traumatic amputation of his right leg and a series of surgeries to maintain function of his left leg. His direct and matter-of-fact approach was detailed and powerful, "safety policy is an asset and disregarding it can change your life." Bailey strongly pointed out. Kevin's goal is to eliminate work related injuries by encouraging workers to make better choices. The message plain and simple--every accident is preventable and we can have a "ZERO" accident culture.
The celebration of the safety accomplishments for Penhall Company for the year of 2014 were highlighted and recognized by awards at the Safety Awards Dinner. Billy Miller, Vice President of Highway Services and Risk Management said, "With a diligent effort from the team (Penhall Employees) we can make significant strides to improve our safety performance and accomplish our commitment to send every employee home safely to their families every day." Penhall Company highlighted all efforts in making safety their number one job and expressed their enthusiasm for their employees' dedication and hard work that is displayed everyday they are on the job.
Penhall Company's Safety Best Practice emphasis for 2015 will be focused on the following four key areas:
1) Pre-Task Planning – Preformed before every task and repeated with changing worksite conditions
2) Safety Meetings - Monthly Safety Committees and Weekly Toolbox Safety Meetings
3) Inspections/Observations - Monthly Audits & Jobsite Safety Observations
4) Incident & Near Miss Communication - Incident/Accident & Near Miss Reporting
There is no end in sight for the Penhall Company Safety Conference. Returning to work, employees could be overheard expressing appreciation for the time and attention co-workers take to maintain a safe and successful working environment.
2014 Zero Accident Awards:
Tucson, AZ (Division 27) – 15 months Gardena, CA (Division 14) – 16 months Indianapolis, IN (Division 63) – 18 months Portland, OR (Division 22) – 20 months Raleigh, NC (Division 41) – 22 months Contracts So. CA (Division 10) – 25 months Richmond, VA (Division 45) – 45 months
Dallas, TX (Division 32) – 32 months Central Contracts, Denver (Division 39) – 48 months Riverside, CA (Division 18) – 56 months Santa Clara, CA (Division 02) – 68 months Atlanta, GA (Division 31) – 69 months
5 year Zero Accident Award – Santa Clara, CA (Division 2) President's Award – Atlanta, GA (Division 31)
To learn more about Kevin Bailey and his inspirational Story: http://www.speaksonsafety.com/bio.html
To learn more about Penhall Company and their safety bio http://www.penhall.com