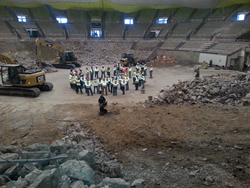 "With a lot of blood, sweat and tears from many people, we made a believer out of the University of Illinois "
Anaheim, CA (PRWEB) April 06, 2015
Penhall Company's involvement has been a truly collaborative effort for the University of Illinois, State Farm Center renovation; The Illinois Renaissance. Eleven Penhall Divisions with locations distancing from Phoenix to Birmingham have all had their time to shine in one of the most ambitious building improvement projects in University of Illinois history. The State Farm Center celebrated its 50th birthday in March of 2013. The center has hosted a range of events from Fighting Illini basketball games to concerts with performers like Elvis Presley and the Rolling Stones. Its claim to fame- the first concrete-domed sports structure in the world.
Recently, University of Illinois students approved a referendum on a per-semester fee that will help finance the renovation of the State Farm Center. The renovation project will include both necessary and significant improvements while retaining the qualities that for over 50 years have made it a landmark. March 5th, 2015 at midnight after the last home U of I basketball game, Penhall Company took their turn among other trades to remove the arena seating bowl and event floor. The removal path to get the concrete debris out of the State Farm Center was extremely limiting, and the only option available to Penhall Company. To quote Jim Zappavigna, Regional Contracts Director with Penhall Company, "With a lot of blood, sweat and tears from many people, we made a believer out of the University of Illinois and we did it without any accidents."
Another challenge presented itself along with the aggressive schedule for Penhall Company. In order to get the CAT 320 Excavators into the University of Illinois arena CAT would need to take the cab off the track to get the machine into the arena and put it back on once the machines were inside. Zappavigna added, "It took the better part of a day to get both machines inside and ready for action. A collaborative effort of man power was needed to accomplish that task." Currently Penhall Company has eleven (11) divisions working as one, with one goal in mind- to stay on track, among the other trades to meet the November 2016 deadline.
Penhall Company is excited to have this large opportunity with such historical meaning and architecture added to its resume. With much enthusiasm surrounding the NCAA March Madness Big Ten Conference the Illinois Renaissance has that much more excitement surrounding its completion. Four of the six renovation phases have been completed, come November 2016, the renovation will be finished and eagerly ready to host NCAA (National Collegiate Athletic Association) events such as championships and the Big Ten Conference. Penhall Company is enthusiastic to add this challenging job to the list of its accomplishments.
To learn more about Penhall Company and all of the Services offered: http://www.penhall.com
To learn more about the University of Illinois State Farm Center Renovation: http://www.fightingillini.com/statefarmcenter/
To learn more about CAT Excavators: http://www.cat.com/en_US.html