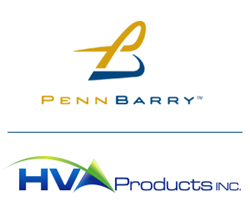 HVA Products, Inc. is pleased to represent PennBarry in Southeastern WI.
Plano, TX (PRWEB) March 05, 2014
Since 1978, HVA Products Inc. has been an independent manufacturers' representative for commercial and industrial HVAC systems. Since that time, they have based their operations out of Mequon, WI and gathered a team of talented and experienced individuals, which holds nearly 125 years of cumulative experience. From schools and offices to hospitals and specialty applications, customers can rest assured that they will receive the service and support required to properly select and specify the necessary products for the job. This service-oriented culture has helped them build strong relationships with local mechanical consultants and engineers and contributed to their involvement in a variety of notable projects, such as the General Mitchell International Airport, a VA Hospital, and the Chicago Walker Street Tunnel.
"Working with engineers to select and specify such highly configurable products requires a knowledgeable, engineer-oriented sales staff," said Paul Christiansen, Vice President of Sales and Marketing at PennBarry. "HVA Products Inc. not only possesses a vast amount of industry experience, but they are equally committed to educating the engineering community to promote proper HVAC selection and specification."
Changing construction schedules often require products be available with little to no lead time. HVA Products Inc. meets those demands with use of their warehouse, which stocks a variety of HVAC products, soon to include PennBarry Zephyr fans. Complete with engineering, application, and product support services, HVA Products Inc. is positioned to be a top resource for a variety of ventilation solutions for years to come.
"HVA Products, Inc. is pleased to represent PennBarry in Southeastern WI. With this great addition to our product offering, we are now able to provide customers with a wide range of commercial/industrial fans, hoods, roof mounted intake and exhaust products, and energy recovery units," said Kris Mehta, President of HVA Products Inc.
PennBarry is committed to providing sustainable, innovative ventilation products and solutions through industry involvement, personnel and facility investments, and training programs for architects, building owners, contractors and consulting engineers. Partnerships with knowledgeable, service-oriented manufacturer representatives that share similar values and goals continue to play a large part in PennBarry's growth and success.
For more information about PennBarry ventilation products or to obtain a copy of PennBarry's Product Catalog, visit http://www.hvaproducts.com or http://www.PennBarry.com.
About PennBarry
PennBarry is a leading manufacturer of commercial and industrial ventilation products, including roof and wall exhaust centrifugal fans; ceiling, wall, and inline centrifugal fans; roof supply centrifugal fans; square and round centrifugal fans; wall mounted axial fans; hooded roof axial fans; upblast roof axial fans; gravity ventilators; roof curbs; utility vent sets; freestanding centrifugal fans; industrial and material handling fans; tubular centrifugal inline fans; mixed flow centrifugal fans; plug and plenum fans; wall mounted propeller fans; tubeaxial fans; vaneaxial fans; bifurcator fans; fume exhaust; indoor and outdoor energy recovery units; as well as kitchen hood make-up air units and exhaust fans. PennBarry is a division of Air System Components, Inc. (ASC). ASC is a subsidiary of Air Distribution Technologies, Inc.