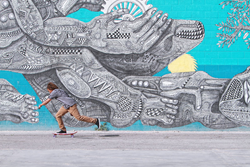 Skate fresh on geometric prints or make your mark and fade into bright color. The 90's are back and hitting the streets!
(PRWEB) June 30, 2015
Reigniting the nostalgic magic of the '90s in all its glory, Penny Skateboards is proud to present its 2015 Collection encompassing the Fresh Prints series featuring a radical mix of bold colors and geometric prints symbolic of a retro street wear influence and Painted Fades range of vibrantly colorful, ombré spray painted decks that wear to reveal a hidden color underneath. Complementing the range of trend driven skateboard styles, Penny has also released five new Penny Pouch Backpack styles, so you can put your 22" or 27" skateboard in a pouch and keep your hands free.
Fresh Prints
Known for its playful graphics, vibrant colors and carefree fun, the 2015 Fresh Prints collection celebrates an era that represents those principles in an authentic way by embracing the resurgence of the 90's street fashion and culture through lifestyle, art and music trends to include old-school MTV where Hip-Hop meets Grunge.
Why '90s? Penny designers wanted to offer something people are nostalgic for and love. The '90s is a spiritual descendant to the counterculture of the late '60s and early '70s where youth subcultures rebelled against the mainstream and were unhappy with the status quo. Penny took this motif and brought it to life with four fresh designs offering two sizes: 22" and 27" decks. Each skateboard features a premium plastic board with a waffle non-slip deck complete with all hardware to include trucks and wheels.
Painted Fades
Inspired by surfboard art, reflecting a love of the beach, carefree attitude and desire to roam anywhere, the Painted Fades have been re-invented for 2015. Introducing new energetic color combinations, angled fade and a secret, hidden color deck awaiting your reveal. Designed and manufactured to handle the wildest of rides, Painted Fades will wear uniquely to the rider's style revealing a complimenting deck color underneath. Hit the streets and make your mark – no two boards will ever be the same.
Each skateboard design is available in 22" and 27" sizes with mixes of three complementary colors in an ombré effect that's sure to be a favorite among those who like to chill out and just enjoy the lifestyle.
Penny Pouch Backpack
The Penny Pouch is the ultimate skateboarder's backpack allowing you a hands-free system when you're not skating with its innovative zip-out pouch for the tail of a 22" or 27" board and two durable straps to hold your skateboard tight. With more than enough pockets and compartments to store your daily essentials to include a 15" laptop, iPad sleeve, phone pocket and side mesh drink bottle holders, Penny backpacks are perfect for cruising the streets with friends and everyday use for class. With five new styles to include the classic all Black, summery shades of Pastel, a staple to the range with shades of Blue, the rad Slater design, or our popular Carlton, Penny has you covered in style.
For more information on Penny Skateboards go to: http://www.pennyskateboards.com,
Or join the Penny community:

###
About Penny Skateboards:
Penny Skateboards were established for the sole purpose of bringing back the fun into skateboarding and has created a global skateboard phenomenon that leads the market for product quality and innovation. Each Penny Skateboard is built with the highest quality raw materials and fanatical attention to detail. Penny Skateboards are designed and built to look good, perform well, and exceed all of your expectations. Your fun starts on a Penny. http://www.pennyskateboards.com.
About Absolute Board Co.:
Founded in 1998 by Brisbane skateboarder Ben Mackay, Absolute Board Co. is skater owned and operated. Absolute Board Co. proudly owns and distributes some of the most reputable brands in the surf, skate, lifestyle and fashion channels to include: Shopboard Program, Penny Skateboards, Z-Flex Skateboards, Uppercut Deluxe, and Seven Skates. Formerly named Absolute Distributors, today Absolute Board Co. products are sold in over sixty countries worldwide, with offices and production facilities in Australia, UK, USA, China, and Taiwan.