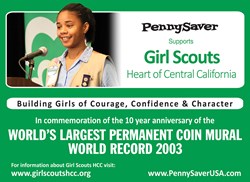 Brea, CA (PRWEB) December 05, 2013
In 2003, PennySaver set a world record for the "World's Largest Permanent Coin Mural," which was constructed using 100,000 pennies ($1,000 worth), as part of the opening of the new production facility in Rancho Cordova, CA. In August of 2013, that facility closed in an effort to centralize production of the PennySaver in Southern California.
In commemoration of the creation of the mural, PennySaver donated the $1,000 value of the mural to the Girl Scouts Heart of Central California, which has a strong presence in the area. "Girl Scouts Heart of Central California extends great thanks to PennySaver for their generous donation and for supporting our mission of building girls of courage, confidence, and character," said Julie O'Donnell, Girl Scouts Heart of Central California's Vice President of external affairs. "Setting the world record for the coin mural was a fun memory for the council and one we will hold on to for years to come."
In spite of the move, the PennySaver is still very much a part of the community in Northern California today as it was 10 years ago, through the weekly delivery of local deals from Sacramento to the South Bay and in over 780 local editions across California.
# # #
About PennySaver USA, LLC
PennySaver USA, LLC, a privately-owned company, has been a leader in hyperlocal marketing and advertising for over fifty years. Each week, the PennySaver print publication serves more than nine thousand unique advertisers, distributes over 80 million inserts, and delivers thousands of classifieds and coupons to more than 9 million California households via the United States Postal Service. Its classifieds, coupons, and local business listings website, PennySaverUSA.com, hosts over 5 million listings and offers several local advertising options across desktop and mobile devices nationwide. PennySaver USA has also helped thousands of businesses establish their brand, manage their digital presence, and drive qualified leads through PowerSites™, a full-service website hosting, creation, maintenance, and local marketing solution. For more information, visit http://www.pennysaverusa.com.
About Girl Scouts:
Founded in 1912, Girl Scouts is the premier leadership development organization for girls. The local council, Girl Scouts Heart of Central California, stands behind its mission to build girls of courage, confidence and character who make the world a better place. Through the Girl Scout Leadership Experience, girls Discover life skills and a positive sense of self, Connect with others, and Take Action to improve the world around them. The council is headquartered in Sacramento and serves nearly 29,000 girls in 18 counties* in Central California. For more information on the Girl Scouts Heart of Central California, visit http://www.girlscoutshcc.org.
*Alpine, Amador, Calaveras, Colusa, El Dorado, Glenn, Mariposa, Merced, Nevada, Placer, Sacramento, San Joaquin, Solano, Stanislaus, Sutter, Tuolumne, Yolo and Yuba.
PennySaver USA Media Contact
Drew Fortin
Email: dfortin(at)pennysaverusa(dot)com
Telephone: (714) 577-4367