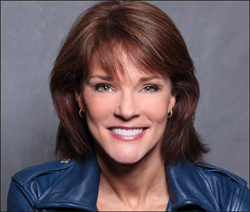 A busy mom of two teenagers who is personally coping with an aging parent, Carolyn is very relatable.
Dallas, TX (PRWEB) February 27, 2016
Penrose Senior Care Auditors® announces its new face and spokesperson, actress Carolyn McCormick, best known for her 20-years on Law & Order playing Dr. Elizabeth Olivet. "It was a serendipitous meeting," says Rhonda Harper, Penrose Founder and CEO. "We met in the Santa Fe airport waiting for our delayed plane. She had been visiting her aging mother who has in-home care."
"Once I learned about Penrose, I knew this was an important, innovative new service that can really make a difference. Given my personal situation, I was excited to become a part of its mission to improve the lives of seniors and provide families peace-of-mind," says McCormick. "Having a Penrose Senior Care Auditor checking in on my mother has made a world of difference to me."
"We're thrilled that Carolyn has joined us. She brings an authentic warmth, sincerity, and intelligence to this growing new field of senior care auditing," continues Harper. "A busy working mom of two teenagers who is personally coping with an aging parent, she is very relatable."
Expanding its Care-Check audit and launching four additional audits over the coming months, Penrose will feature McCormick in its advertising and public relations efforts.
McCormick built her career playing women of substance and intelligence. In addition to her reoccurring role on Law & Order, her talent has been sought after for scores of feature films, on and off Broadway, regional theater, television programs, documentaries, voice-overs.
About Penrose Senior Care Auditors, Inc.
Founded in 2014, Penrose nationwide senior care service checks-in on seniors to make sure everything is okay, then immediately delivers the report to clients, generally seniors' adult children. Penrose Check-In audits include: Care-Check, Inventory-Check, Pre-Check, Safety-Check, and Quick-Check. Its auditors are PenroseCertified, having completed the Gold Standard Background Check, Drug Test, Trust Test, and an online 8-hour Penrose Certification Program. Penrose is an independent, woman-owned business.