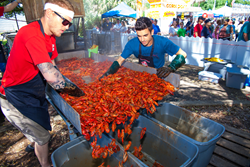 "This year we're jazzing up the festival with a second line procession led by the Cha Wa Indians, straight from New Orleans."
Pensacola, FL (PRWEB) April 15, 2015
Crawfish craziness will take over the Pensacola Bay Area beginning Friday, May 1, when Fiesta of Five Flags hosts the 31st Annual Pensacola Crawfish Festival, one of the largest crawfish boils in the state.
Set against the beautiful waterfront backdrop of Bartram Park, located directly across from historic Seville Square in Downtown Pensacola, the Pensacola Crawfish Festival brings a bit of the Louisiana bayou to the Pensacola Bay Area.
Experience the taste of fresh, spicy crawdads while enjoying the music of the bayou. There will be a wide range of Cajun fare such as crawfish po-boys, crawfish pies, crawfish etouffee and, of course, 16,000 pounds of boiled crawfish.
Be sure to bring your appetite for soul-stirring music, too, because this year's festival is bringing The Big Easy to Downtown Pensacola. Festival-goers can enjoy New Orleans-style instrumental jazz, R&B, rock and traditional Cajun music throughout the event. Headliners include Wayne Toups, Lost Bayou Ramblers and Voodoo Gumbo.
Also included in this year's lineup are the Cha Wa Mardi Gras Indians. Known for their elaborately-feathered Indian costumes, infectious funk music, drums and chanting, Cha Wa will get the party started on Sunday morning with a second line procession throughout the festival grounds to "Little Liza Jane."
"Each year we try to make the festival more exciting than the last," says Adelene Lovelace, executive director of Fiesta of Five Flags. "This year we're jazzing up the festival with a second line procession led by the Cha Wa Indians, straight from New Orleans."
Friday's festival begins at noon, just in time for the mid-day mudbug meal, and runs until 11 p.m. On Saturday, May 2, the grounds open at 10 a.m. and close at 11 p.m. The final day, Sunday, May 3, the festival opens at 11 a.m. and ends by 5 p.m.
Daily admission is $5 for adults or $10 for a three-day weekend pass. Children 12 and under are free. All active military with ID are free on Friday.
For more information about the Pensacola Crawfish Festival and other Fiesta events visit http://www.fiestaoffiveflags.org.
#
Fiesta of Five Flags was formed to celebrate the founding of Pensacola. In 1559 Spanish Conquistador, Don Tristan de Luna, established Pensacola as the first European settlement in the United States. Since that time five different flags have flown over the city: Spanish, French, British, Confederate and American.
Fiesta plans and produces over 20 events throughout the year with the help of a plethora of volunteers. These events are designed to appeal to all ages and interests, as well as promote tourism for the area. Fiesta has always been a significant celebration for the Pensacola Bay Area.
##
About Visit Pensacola
Visit Pensacola leads the effort of economic development through tourism in Escambia County. Comprised of more than 200 member businesses, Visit Pensacola's mission is to position the Pensacola Bay Area as a premier year-round travel destination through tourism marketing, communications, meetings and conventions, reunions and group tour initiatives. For more information about Visit Pensacola, call 1-800-874-1234 (toll-free) or go to http://www.VisitPensacola.com.
###