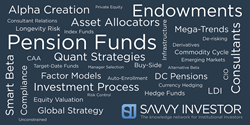 The early response to Savvy Investor has completely surpassed our expectations
London, UK (PRWEB) May 13, 2015
"Savvy Investor" is a new professional network for institutional investors worldwide. Since launch on March 10th, over 2000 members have registered their profiles on the site; primarily investment managers, pension funds and investment consultants, with almost 10% of these being CIOs or CEOs.
The "Savvy Investor" website http://www.savvyinvestor.net provides members with access to over 8000 pensions and investment white papers and articles; curated from around the web or published directly to the site by asset managers and investment consultants.
Chief Executive Andrew Perrins, formerly an actuary and asset allocator with Abbey Life and Chase Manhattan, said; "The early response to Savvy Investor has completely surpassed our expectations. We've only just started marketing the site, but a lot of our new members are already coming by word of mouth, and it seems to be taking on a life of its own. I'm pleased for our team, who have worked so hard to build a site which has the networking functionality of LinkedIn, but is founded upon excellent content, all within a compliant framework. We've been delighted by the response, particularly from US, UK, Canadian and Australian investors. In the last few days we've begun to see the larger asset managers like State Street and Natixis establishing their company profiles and using the site as a publishing platform to post their research."
Membership of Savvy Investor is free, but access to the site is provided only to pension funds, other institutional investors and their service providers. Members must register using their professional email address, which is then verified.
A new type of professional social media is growing rapidly
Savvy Investor represents a new breed of professional social media – a "knowledge network", focusing on providing institutional investors with the best white papers and professional research from around the web. With most social media, such as LinkedIn or Twitter, content is disposable and instantly forgotten. A "knowledge network" is different - the focus is on content with substance; educational and of lasting value. Savvy Investor is a new type of industry portal, focused on helping investors to work smarter.
Savvy Investor serves its members with a rich blend of curated research, aggregated news and user generated content. Investment research and pensions papers are curated the old-fashioned way, with Savvy Investor researchers identifying and categorising the best research. News and blogs are aggregated from around the web, with thousands of investment and pension stories every day running through sophisticated algorithms and keyword filters to index content into one of 50 topic categories.
Membership of this new professional network is geographically diverse; broadly 40% North America, 30% UK, 20% Europe (ex UK), 10% Australia and ROW. The vast majority of members (over 90%) work for asset managers, pension funds or investment consultants.