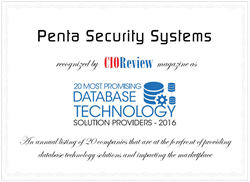 "Security usually comes at the loss of convenience. However, MyDiamo is designed to best serve the original purpose of the database and meet the latest expectations of security."
Seoul, Korea (PRWEB) July 21, 2016
Penta Security Systems, an information security firm headquartered in Seoul, Korea and Asia's leader in web security, data encryption, and authentication security solutions, is recognized as one of the "20 Most Promising Database Technology Solution Providers – 2016" by CIOReview.
Jeevan George, Managing Editor of CIOReview, expressed this recognition, "We are happy to announce Penta Security Systems as one of the 20 Most Promising Database Technology Solution Providers 2016 for providing security solutions to the data oriented organizations and it continues to help clients in running business without any obstructions caused by cyber attacks."
As an engine-level encryption solution for open source databases, such as MySQL, MariaDB, and PerconaDB, MyDiamo's core advantage lies in its simple installation process. MyDiamo's platform requires no engineering knowledge and allows anyone to install and utilize MyDiamo since it supports transparent database encryption and thus requires no code changes.
Additionally, its column-encryption allows MyDiamo to run more efficiently than with file-level encryption. Users are able to pick and choose specific columns to encrypt instead of having to encrypt entire files. As a result, MyDiamo has proved to be the ultimate open-source database (DB) security solution with over 2,000 downloads.
"Security itself is a challenge for the database as the database is designed to serve quick searches with various search fields, provide stable storage, and data management," remarks Duksoo Kim, Chief Technology Officer at Penta Security Systems. He explains that security by nature goes against the architecture and purpose of the database, as security becomes a burden to database performance. "Security usually comes at the loss of convenience. However, MyDiamo is designed to best serve the original purpose of the database and meet the latest expectations of security."
About Penta Security Systems
Penta Security is a global information security firm headquartered in Seoul, South Korea and specializes in web application security, database encryption, as well as single sign-on access control management. With over 19 years of IT security expertise, Penta Security is recognized as the number one Web Application Firewall vendor in the APAC Region based on market share. For more information about Penta Security, please visit http://www.pentasecurity.com/en.
About CIOReview
Published from Fremont, California, CIOReview is a print magazine that explores and understands the plethora of ways adopted by firms to execute the smooth functioning of their businesses. For more info: http://www.cioreview.com/