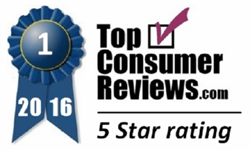 People Finders offers comprehensive people searches at an affordable price.
Overland Park, KS (PRWEB) July 18, 2016
TopConsumerReviews.com recently awarded their highest five-star rating to People Finders, an industry leader in People Search services.
With the explosion of social media and availability of search engines, it would seem that finding people would be an easy task. From childhood best friends to long-lost relatives, people regularly turn to the Internet to reconnect with each other. However, some individuals are not easily found by a quick Google search or by looking for profiles on Facebook, and require more extensive tools to be tracked down. There are many online People Search services that can help find those individuals whose privacy settings, lack of Internet use, or even frequent moves make them more difficult to locate.
"People Finders offers comprehensive people searches at an affordable price," explained Brian Dolezal, of TopConsumerReviews.com, LLC. "You can search by name, phone number, address (postal and/or email), and Social Security Number and get results almost immediately. Their social network search can track down all of the profiles associated with a given email address, from Twitter to LinkedIn and more. People Finders also provides a thorough background report that includes details such as aliases, marriages and divorces, bankruptcies, and sex offender records. And, if you need unlimited access for a high volume of searches—for genealogy research or tracking down heirs to an estate, for example—People Finders offers a monthly subscription for less than $25. We give People Finders our highest ranking for online People Search services in 2016."
To find out more about People Finders and other People Search services, including reviews and comparison rankings, please visit the People Search category of TopConsumerReviews.com at http://www.topconsumerreviews.com/people-search/.
About People Finders
Founded in 1988 with headquarters in Sacramento, California, PeopleFinders is a premier online Data-as-a-Service (DaaS) provider that helps consumers quickly search billions of records spanning the last 40 years, and delivers more comprehensive and accurate results than competitor services. PeopleFinders data includes information on virtually every adult in the U.S., and has unique access to other data sources.
About TopConsumerReviews.com
TopConsumerReviews.com, LLC is a leading provider of independent reviews and rankings of hundreds of consumer products and services. From People Searches to Background Checks and Payday Loans, TopConsumerReviews.com delivers in-depth product evaluations in order to make purchasing decisions easier.