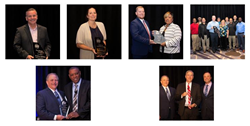 It is the people who work in this industry that make manufacturing so successful and they deserve the recognition.
ATLANTA (PRWEB) October 11, 2019
The best of the manufacturing industry were recognized at the 5th annual Georgia Manufacturing Summit on Oct. 9 at the Cobb Galleria. The awards were sponsored by Southwire and are the only awards to recognize individuals in manufacturing.
Lori Whiting of Ranger Manufacturing in Gainesville, Ga., received the award for Front Line Leadership. The award honors supervisors or managers in production or back office roles. According to Mike McGraw of Ranger Manufacturing, "Her title does not represent all she does for our company. In addition to all her clerical duties, Lori builds lock and lock guard assemblies, packages all Ranger Lock shipments and process anything to do with Ranger Lock on our four e-commerce platforms."
In addition, he said, Whiting, a two-year employee of the company, is dedicated to the team and is always looking for efficiencies. "When Lori is not here, it's absolutely noticed by everyone."
Jonathan Hardesty of Superior Recreational Products in Carrolton was recognized as Plant Manager of the Year. The award honors managers who consistently exhibit excellence. Hardesty was recognized in the People of Manufacturing awards for his leadership following a devastating fire at the Carrollton plant on July 5, 2018.
Recounting the events of that week, which also included a fire at the company's Fort Payne, Ala., facility on July 4, Hardesty shared words of advice from his mother, "She said 'John, you can't have a testimonial if you haven't first been tried.'"
During those trying times, Hardesty said the community rallied around the company and its employees. "The whole community was great."
Getting back to business was everyone's priority. "We shipped our first product 17 days after the fire," he noted. Six months later, the plant had caught up on backorders and was taking new orders. Next month, the company will be holding a ribbon cutting on its new, larger plant.
The shipping and packaging team at Scientific Games in Alpharetta was recognized for Team Operational Excellence. The award recognizes a team of up to 10 people who have contributed to a manufacturer's operational excellence. Carlos Robinson, Derrell Jones, Hernan Valdivieso, Bryan Murphy, Manuel Trevino, Evelyn Freeman, Vu Phan, Raj Sureja, Saul Madrigal, and Pitsil Annan were recognized for increasing robotic efficiency by 33 percent.
OFS FITEL of Carrolton was recognized for Team Safety. Tyler Beegle and Jordan Howard, (Joyce Johnson and Waymond Bishop not pictured). The OFS team has increased the employee engagement into safety by implementing safety committees for each shift. This has led to an increase in the safety awareness by the front-line employees. The EHS team (Tyler & Joyce) drove these programs to increase a proactive focus on safety, as this will help to address issues before they create an injury or serious near miss. The OFS team is working to complete a 126,000 square foot expansion, which will include innovative equipment and machinery, in the fiber optic cable manufacturing process.
"We are pleased to recognize the top people in manufacturing," said Georgia Manufacturing Alliance CEO Jason Moss. "Georgia's manufacturing sector is strong and its contributions to Georgia's economy is well known. It is the people who work in this industry that make manufacturing so successful and they deserve the recognition."
The Georgia Manufacturing Summit is a tradeshow produced by the Georgia Manufacturing Alliance (GMA). GMA is a membership-based industry organization founded in 2008 to support Georgia's manufacturing community. GMA provides monthly plant tours, educational sessions, tradeshows, and unique networking opportunities designed to help make profitable business connections for its members. The Georgia Manufacturing Directory, Georgia Manufacturing Summit, Georgia Manufacturing Calendar, and BuyFromGeorgia.com are additional resources produced by GMA. To learn more about the organization, membership, and upcoming events, please call 770-338-0051 or visit their website http://www.GeorgiaManufacturingAlliance.com.