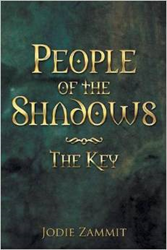 (PRWEB) July 15, 2015
MACKAY, Australia – As a child, Jodie Zammit was surrounded by nature and, to her, each type of dirt, tree, rock, weed, wind, rain and creature had a unique voice and character. They all had stories to tell. These experiences and the dreams she had inspired her to tell the tale of "People of the Shadows" (published by Xlibris AU).
Relegated to myth, the forest-dwelling Shadow People have evolved alongside humanity. The Society of the Morrow means to possess a precious discovery made by the Shadow People—the Key, embodying a secret force of the universe. They plan to wipe out the Shadow People and weaponize the key for world domination.
Sam DeAngelo and his parents are taken hostage in their home on the eve of his 17th birthday by intruders looking for a key. Sam escapes his captors and follows them to an old rangers' hut on top of the nearby mountain, where they have taken his parents. His cousin and best friend, Mitchell catches up with him, and together they begin a journey of discovery. Sam meets his mysterious benefactor, Ezekiel, who helps him unravel hidden knowledge about himself and the Shadow People and gathers an army to rescue Sam's parents. As Sam rekindles his relationship with his girlfriend, Perrin, another friend joins them and reveals her knowledge of the Morrow's plan; the kidnap was a ruse to lure the innocent Shadow People to the hut, and they plan to kill as many as they can.
To avoid a slaughter, Sam will face difficult, life-shattering choices that he may not be able to make. Lives will be lost and sacrifices will be made as Sam realizes the sheer weight of the responsibility he bears – a burden that was not of his choosing but was bestowed upon him due to his abilities, his worthiness to be the Custodian of the Shadow People. Fate has chosen him and he must act so that those precious to him may live.
Set in the breathtaking landscape of the Australian bush, "People of the Shadows" is a gripping piece of young adult fiction with powerful themes of self-discovery, showing how youths can challenge beliefs and rise above adversity.
"People of the Shadows"
By Jodie Zammit
Hardcover | 6 x 9 in | 224 pages | ISBN 9781503504387
Softcover | 6 x 9 in | 224 pages | ISBN 9781503504370
E-Book | 224 pages | ISBN 9781503504394
Available at Amazon and Barnes & Noble
About the Author
Jodie Zammit spent her childhood exploring Outback Queensland on the properties where she lived with her family. She fell in love with the mysteries and magic of the bush, and her friendship with nature always stayed with her. She now lives with her beloved husband and children in the small seaside city of Mackay, Australia.