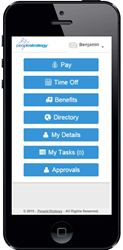 Atlanta, GA (PRWEB) May 13, 2015
PeopleStrategy, Inc.®, a leading provider of end-to-end Human Capital Management (HCM) solutions delivered in the Cloud, today announced the launch of its second generation mobile app for its flagship solution, PeopleStrategy eHCM. PeopleStrategy's eHCM mobile app enables eHCM clients to securely access important personal and company information from any mobile device, at any time.
Employees can check their pay stubs and W2 tax statements, request and view time off, view benefits plan information, search an employee directory and view a list of assigned tasks such as onboarding requirements and due dates. Managers can view approvals that have been assigned to them along with when the approval is due. The app is available on iPhone and Android mobile devices.
"PeopleStrategy eHCM has been accessible via a mobile browser for some time, but in today's world where there seems to be an app for everything, it made sense to provide this enhanced availability and added convenience to our clients," said David Fiacco, President and COO of PeopleStrategy. "This is just another example of PeopleStrategy ensuring our clients enjoy the benefits of the latest technologies and functionality."
PeopleStrategy eHCM helps clients to streamline a full range of HR, payroll, benefits and talent processes improving productivity and efficiency while saving time and costs. Featuring a single database and integrated functionality, eHCM delivers significant benefits by capturing and storing all employee data in a central location, providing access to real-time people analytics to guide more strategic and aligned business decisions.
About PeopleStrategy, Inc.
PeopleStrategy is a leading provider of enterprise Cloud-based HCM solutions that enable employers to more effectively manage their Talent Acquisition, HCM, Payroll, Benefits, Workforce Management and Talent Management processes. PeopleStrategy's eHCM™ solution suite empowers the entire organization through self-service and mobile access, reducing administrative costs and providing more time to focus on a company's people strategy. What's your people strategy? Learn more @PeopleStrategy or visit us at http://www.peoplestrategy.com.