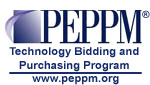 We wanted a procurement vehicle that could stand up to the most stringent requirements of local agencies and school districts.
Milton, PA (PRWEB) October 05, 2015
Contracts enabling a nationwide roll-out of managed print services were awarded to the HP and Xerox corporations by the national PEPPM technology purchasing cooperative which serves school districts, colleges, universities, and local governments.
The award of contracts is the culmination of more than 18 months of procurement work by PEPPM, a purchasing program of the Central Susquehanna Intermediate Unit (CSIU), a political subdivision of the Commonwealth of Pennsylvania.
Awarded by the CSIU Board of Directors Wednesday, September 16, 2015, the separate contracts to HP and Xerox for services were unique in that they came to fruition through an objective, competitive, sealed-bid process.
"For these types of procurements, it is more common to use a 'request-for-proposal' procedure," said David Manney, manager of the PEPPM program, "but the RFP process can favor subjective evaluation criteria and negotiations over clear objectivity and lowest-price comparisons. We wanted a procurement vehicle that could stand up to the most stringent requirements of local agencies and school districts."
"So," said Manney, "we set high standards for performance in a true, blind bid and insisted that bidders offer us their lowest not-to-exceed price for printed output. That means more school districts, cities, and local government agencies will feel comfortable using these piggybackable contracts to minimize their contracting costs and save money with managed print services."
The concept of managed print services involves the assessment, deployment, maintenance, and supply provision (ink and toner) for an agency's entire fleet of copiers and printers. The predominant evaluation component for all these services in the PEPPM bid project was the cost-per-page for printed output.
PEPPM's bid process included an expanded invitation to bid to 2,170 companies using the counsel and bidding technology of its e-commerce provider, the Epylon Corporation of Danville, Calif. The bidding procedure not only collected the companies' bid quotations, but also information on how their rate cards and cost-per-copy would apply to a theoretical school district with 706 copiers and printers in its fleet.
The term of the new contracts will be through September of 2018, with the option for a one-year extension.
PEPPM, with its website at http://www.PEPPM.org, provides competitively bid pricing from more than 300 technology vendors. Its expansive array of purchasing contracts is used by schools, colleges, and local governments in 48 states. PEPPM has been a leader in cooperative purchasing for communities throughout the U.S. since 1982.