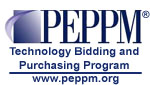 MILTON, PA (PRWEB) December 02, 2015
The national PEPPM technology purchasing cooperative has awarded two companies with extensive experience in managed print services – Canon U.S.A., Inc. and Lexmark International, Inc. – purchasing agreements to serve school districts, colleges, universities, and local governments.
The contracts allow public agencies to use favorable pricing and terms for managed print services based on competitive, sealed bids solicited by PEPPM, a purchasing program of the Central Susquehanna Intermediate Unit (CSIU), a political subdivision of the Commonwealth of Pennsylvania.
Awarded by the CSIU Board of Directors, the separate contracts to Canon and Lexmark were conferred only after going through stringent bid procedures demanded by local agencies and school districts that want to ensure fair, open, and transparent competition, according to David Manney, manager of the PEPPM program.
The concept of managed print services involves the assessment, deployment, maintenance, and supply provision (ink and toner) for an agency's entire fleet of copiers and printers. The predominant evaluation component for all these services in the PEPPM bid project was the cost-per-page for printed output.
To qualify as bidders, Canon and Lexmark had to offer proof they have managed-print experience with at least 50 agencies or companies – including school districts – and that they have generated demonstrable savings with accomplished managers to agencies under contract.
One of the reasons PEPPM solicited bids was the evidence that school districts, local governments, and colleges could see substantial, double-digit-percentage savings in copying and printing. The new agreements will offer public agencies in communities throughout the U.S. skilled managers and systems to assess their existing printing and copying practices and then provide efficient alternatives and ongoing support, said Manney.
PEPPM's bid process included an expanded invitation to more than 2,000 companies using the counsel and bidding technology of its e-commerce provider, the Epylon Corporation of Danville, Calif.
The term of the new contracts will be through September of 2018, with the option for an extension.
PEPPM, with its website at http://www.PEPPM.org, provides competitively bid pricing from more than 300 technology vendors. Its expansive array of purchasing contracts is used by schools, colleges, and local governments in 48 states. PEPPM has been a leader in cooperative purchasing for communities throughout the U.S. since 1982.