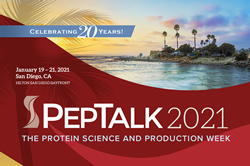 It's exciting to recall how the event has evolved and how the PepTalk community has progressed over the years
NEEDHAM, Mass. (PRWEB) October 19, 2020
Cambridge Healthtech Institute (CHI) is proud to celebrate the 20th anniversary of its PepTalk: The Protein Science and Production Week, marking two decades of innovation, collaboration and global recognition as an annual gathering place for key players in the biotherapeutics industry.
Over the last 20 years, PepTalk has grown to be an international event, that connects people from around the world to share knowledge and accelerate biotherapeutics development.
"It's exciting to recall how the event has evolved and how the PepTalk community has progressed over the years," said Mary Ann Brown, Executive Director of Conferences at CHI. "I look forward to seeing so many familiar faces each year and making new connections. PepTalk brings some of the most creative, and brightest minds together, providing an environment for sharing and learning. While we continue to face unprecedented and uncertain times, it's more important than ever for researchers to come together, to share experiences, explore the opportunities and overcome the challenges."
In its twentieth year, PepTalk will be held January 19-20, 2021 as a 3-day fully integrated virtual event that will continue to serve as a content hub for the latest research and developments. Its digital platform provides 1:1 networking, live Q&A sessions, breakout groups, research posters, dedicated zoom rooms for Exhibitors and so much more.
To view the scheduled programs and confirmed speaker lineup, visit http://www.CHI-PepTalk.com.
Important Dates:
Early registration deadline: November 6, 2020
Poster abstract submission deadline: November 20, 2020
Advance registration deadline: December 11, 2020
To Register:
Call toll free: +1-888-999-6288
Visit: https://register.healthtech.com/reg/ptk
For sponsorship opportunities, contact:
(Companies A-K) Jason Gerardi, 781-972-5452, jgerardi@healthtech.com
(Companies L-Z) Ashley Parsons, 781-972-1340, ashleyparsons@healthtech.com