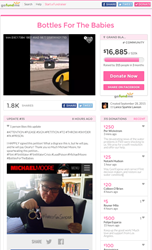 When our neighbor is in need, we will not hesitate to lend a cup of sugar or a couple of eggs, what ever they may need
Flint, MI (PRWEB) January 19, 2016
Residents of the Flint, MI area are in the midst of a crisis involving a dangerous lead contamination in their supply of drinking water, which resulted switching sources for that water. Michigan native Per Wickstrom, the founder and CEO of several substance abuse treatment centers around the northern Midwest, has joined in the efforts of various civic leaders, celebrities, and community activists to offer assistance to residents of Flint. Contributing to the GoFundMe page that was set up to raise funds for bottled water, he has also written a blog entry urging others to take action and donate any money, time or effort that they can afford to give.
"When our neighbor is in need, we will not hesitate to lend a cup of sugar or a couple of eggs, what ever they may need," Wickstrom commented. "It is tough to imagine that, in our country today, our neighbors would be in need of clean, safe water. Lead contamination is a very serious thing, and this form of poisoning has many terrible and irreversible effects. Our thoughts and prayers are with the families of Flint, and I'm sure that any help that can be offered, no matter how big or little, is greatly appreciated".
Flint Michigan Water Issues.
Flint's water issues began in 2014, after the city had been placed under state supervision when it could not recover from the economic collapse which devastated many areas across the country, this area being one of the worst. In an attempt to cut costs, the city's water supply was switched from Detroit's Lake Huron water source to the closer Flint River.
However, the Flint River is already struggling with heavy pollution, and the high salt content of that river's water didn't help matters. Lead from the antiquated pipes that make up Flint's water delivery system began to seep into the water, and children have been testing positive with dangerously high lead levels.
Many agencies from local, state, and federal levels are coordinating investigations into the causes and potential solutions to Flint's water supply problems, but in the meantime, residents are left without access to healthy and clean water. Many of the town's remaining 33,000 households have been fitted with lead filters which are very effective if properly used and maintained. These filters will eventually have to be replaced unless the lead contamination issue is resolved.
The GoFundMe project has supplied over 50,000 bottles of water to local families, but those won't last long without additional support from contributors like Wickstrom. "The residents of Flint still need our help," he says in his blog. "Every little bit helps. Show your support for your fellow American citizens by donating on the GoFundMe page, or finding a way to donate your time and effort. Every single one of us needs some kind of help at some point in our lives. In that spirit, it is important that we help others when they need it.
"Per Wickstrom dedicated his life to helping others overcome addiction after struggling with his own substance abuse issues for many years. In his passion for finding ways to help those in need, he often reaches outside of the halls of his addiction treatment centers to touch the lives of those who are struggling and to build up communities and their residents.
For more information visit http://www.perwickstrom.com. And to donate click here.