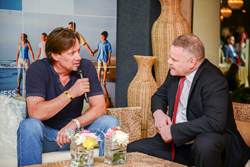 'There's a huge problem in this city,' Kevin said. 'We are in an industry that deals with a lot of negativity. There's certainly enough that have a hard time coping with it, drinking and drugs and all that kind of stuff.'
Hollywood, California (PRWEB) May 07, 2015
In the Stardust Penthouse on the top floor of the luxurious Beverly Hilton Hotel, Choices Recovery, a holistic treatment center for substance abuse, sponsored Durkin Entertainment's EcoLuxe Lounge and the "Salute to the Oscars" celebration on February 21st, 2015. Organized by Debbie Durkin, Los Angeles' leading producer of sustainable product placement in TV and film, the EcoLuxe Lounge is a daylong event that makes appearances at various awards ceremonies and festivals throughout the year, showcasing many of the world's top providers of eco-friendly and socially conscious products and services.
"We were honored to be a part of the EcoLuxe Lounge, working alongside of so many people and companies that care so deeply about what we put into our bodies and how we treat our planet," commented Choices Recovery, South Bend founder Per Wickstrom. "We were grateful for the opportunity to raise awareness about this thing that we call addiction and to inform people about the service that we offer – holistic options in recovery."
Many of Hollywood's entertainment industry professionals stopped into the EcoLuxe Lounge, including TV and film actor Kevin Sorbo, star of the lead role in "Hercules: The Legendary Journeys" and, more recently, "God's Not Dead". Kevin shared a few moments of his time with Per to discuss some of the things he has seen regarding addiction in LA. "There's a huge problem in this city," he said. "We are in an industry that deals with a lot of negativity. There's certainly enough that have a hard time coping with it, drinking and drugs and all that kind of stuff. We hear these stories all the time." A video of Kevin's interview with Per has been released on Choices Recovery's YouTube channel.
Other notable attendees of the EcoLuxe Lounge included Elise Robertson (Oscar Nominee American Sniper Best Picture), Jason Canovas (Oscar Nominee The Hobbit: Sound Editing), Elizabeth Yianni-Georgiou (Oscar Nominee Guardians of the Galaxy: Achievement in Makeup and Hairstyling), Lisa Bruce (Oscar Nominee The Theory of Everything: Best Picture), Ben Wilkins (Oscar Winner Whiplash: Best Sound Mixing), Claudia Wells (Back To The Future), Jason Davis (Celebrity Rehab), Frank Stallone (Rocky), Chase Masterson (General Hospital, ER) and many, many others.
See the full video here: https://www.youtube.com/watch?v=57hX6Ha3fzk