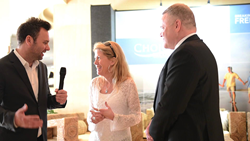 'I think there's a lot of people in the movie business that have struggled at different times in their lives,' Lisa offered. 'It's not a 9 to 5 steady life, so you find a lot of people that have had hard times and a sort of an erratic past.'
Hollywood, California (PRWEB) May 14, 2015
On Februrary 21st, 2015, Per Wickstrom and Choices Recovery sponsored the EcoLuxe Lounge and the "Salute to the Oscars" celebration in the Stardust Penthouse on the top floor of the luxurious Beverly Hilton Hotel. Organized by Debbie Durkin of Durkin Entertainment, Los Angeles' leading producer of on-screen sustainable product placement, the EcoLuxe Lounge is a daylong event showcasing some of the world's top providers of ecologically sound and socially conscious products and services, making appearances at various awards ceremonies and festival throughout the year.
"We were honored to have a place at the EcoLuxe Lounge," Per Wickstrom commented after the event. "We are grateful for the opportunity to raise awareness about this thing that we call addiction and to inform others about what the program at Choices Recovery has to offer - holistic options in the treatment of substance abuse."
Along with AMP Radio's Chris Booker, Per hosted the Choices Recovery Media Center, where many of Hollywood's entertainment industry professionals took a few minutes of their time to share their perspectives and experiences in regards to addiction and overcoming adversity. Among those guests was Lisa Bruce, producer of several films including the 2014 film "The Theory of Everything", the Oscar nominated biopic about the life of famous theoretical physicist and cosmologist Professor Stephen Hawking and his determination in overcoming the disabilities that result from ALS.
In her interview with Per and Chris, a video of which was just released on Choices Recovery's YouTube channel, Lisa drew comparison between Hawking's perseverance throughout his life and the substance abuse and recovery from addiction that she has been witness to in Hollywood. "I think there's a lot of people in the movie business that have struggled at different times in their lives," she offered. "It's not a 9 to 5 steady life, so you find a lot of people that have had hard times and a sort of an erratic past. So, there's a lot of ongoing recovery. I think eye-to-eye conversations and empathy helps."
View the full video here: https://www.youtube.com/watch?v=syjZQuC4mDQ