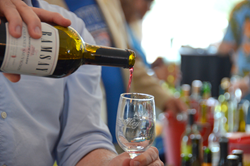 "Visitors can enjoy all four days of the event and still have time to experience all that the Perdido Key area has to offer, including the beautiful beaches located right across the street from the festival site."
PERDIDO KEY, FLA. (PRWEB) March 23, 2015
Nothing is more sublime than sinking your toes in the sand and watching the sun set over the Gulf of Mexico — unless you're sipping a glass of wine, that is. When it comes to spring travel, few destinations compare to Perdido Key, Florida, a 16-mile-long strip of sugar-white sand and turquoise water just a half hour west of Pensacola. It's one of the few remaining stretches of pristine beach along the Gulf Coast, with nearly 60 percent of the island set aside for conservation. And from April 2-5, this friendly, seaside village will also play host to the Perdido Key Wine and Art Festival.
Now in its sixth year, the festival kicks off Thursday, April 2 at 5:30 p.m. with a "Taste of Perdido" gala featuring the unique glass mosaic art of Connie Blum, live music from jazz guitarist Pat McCann and unique wines paired with the dishes of some of the Gulf Coast's finest chefs. Tickets ($25 per person or $45 per couple) are available online at http://www.visitperdido.com or at the Visitors Information Center, located at 15500 Perdido Key Dr.
The fun continues throughout the weekend with live music, local arts and crafts and wine specialists pouring varietals from all over the world and sharing their knowledge during tastings held from 2 to 6 p.m. on Friday and noon to 6 p.m. on Saturday at Villagio Town Centre, 13700 Perdido Key Dr.
"We will feature a different region every day, giving guests the chance to sample more than two dozen wines during the course of the festival," said event coordinator Lori Raisch. Tickets for Friday's and Saturday's tastings are $15 and may be purchased online, at the Visitors Information Center or at the door. Admission includes a collectible wine glass and five tasting tickets. Additional tasting tickets will be available for $2 each.
"Visitors can enjoy all four days of the event and still have time to experience all that the Perdido Key area has to offer, including the beautiful beaches located right across the street from the festival site," Raisch said.
Beyond the beach, sun-starved vacationers can also seek refuge at Big Lagoon State Park, a natural playground located just minutes from the sugar-white sands of the Gulf Islands National Seashore. With nature trails, beaches, bays and a three-story observation tower, the park beckons visitors in search of the great outdoors.
There's no shortage of opportunities for exploration indoors, either. At nearby Naval Air Station Pensacola, visitors can view more than 150 beautifully restored aircraft during a tour of the National Naval Aviation Museum — the largest of its kind. Naval Air Station Pensacola is also home to the Pensacola Lighthouse and Museum. The climb to the top is well worth the panoramic views of the Pensacola Bay Area.
For information and tickets, visit http://www.visitperdido.com/events/wine-art-fest/.
About Visit Pensacola
Visit Pensacola leads the effort of economic development through tourism in Escambia County. Comprised of over 200 member businesses, Visit Pensacola's mission is to position the Pensacola Bay Area as a premier year-round travel destination through tourism marketing, communications, meetings and conventions, reunions and group tour initiatives. For more information about Visit Pensacola, call (850) 434-1234 or go to http://www.VisitPensacola.com.