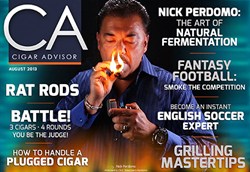 The tobacco will tell you when it's ready...it can take up to six years for some leaves to ferment before they're ready to be rolled into cigars.
Easton, PA (PRWEB) August 01, 2013
The all-new Cigar Advisor is an online cigar magazine that brings a fresh, irreverent, and down-to-earth perspective on all things cigars to thousands of smokers. In addition to educational cigar content and behind-the-scenes cigar industry articles from some of the business's top names, Cigar Advisor delivers an array of content about a variety of topics of interest to people who enjoy the cigar lifestyle. The magazine also features cigar reviews and ratings submitted by real smokers. Cigar Advisor has just published their August issue, featuring Nick Perdomo – President of Tabacalera Perdomo – on the cover.
"My father used to tell me, the three biggest secrets to working with tobacco is the keen use of your hands, nose and eyes," says Nick Perdomo in his continuing series on growing tobacco in Nicaragua. As he describes in "The Art of Natural Fermentation," Perdomo takes no shortcuts when it comes to the process – he believes slowly aged tobaccos make the most flavorful and consistently smooth cigars. Discussing the "old-school" Cuban method of natural fermentation, he describes this process, where the tobacco is carefully monitored and regularly felt for texture, sniffed for aroma, and inspected for color. "The tobacco will tell you when it's ready," adds Nick, who explains that it can take "up to six years for some leaves to ferment before they're ready to be rolled into cigars."
During the fermentation period, Perdomo says, a written record is kept of the tobaccos in every pilon (or "pile"). This includes information such as, on what farm the tobacco was grown, the harvest year of the crop, the variety of seed, primings, and much more being noted. Additionally, leaves are taken from the pilons, rolled into "test cigars" and evaluated for flavor and aroma. "It all comes down to patience, since natural fermentation produces a much smoother and better tasting tobacco," Nick writes. "Tobacco fermentation is a critical part of the pre-production stage. Unless it's done without shortcuts, you can't make great-tasting cigars."
Also included in the August issue, and released today, is a primer on understanding English Premiere League soccer and useful tips for outdoor grilling. Cigar-themed pieces discuss plugged cigars, the magazine's buying guide and Cigar Advisor's monthly "Battle!" cigar ratings feature. Additional articles will be released throughout the month of August.
About Cigar Advisor Magazine
Cigar Advisor magazine is a digital publication created for real cigar enthusiasts who love tobacco and live the lifestyle. Cigar smokers are passionate about almost everything they do - whether it's the drinks they savor, the food they devour, the cars and motorcycles they dream of, the sports they're fanatical about or the women they love, Cigar Advisor shares those passions with a razor-sharp edge, soaking up each day and experience as if it were our last. Find that passion and more on display at CigarAdvisor.com.