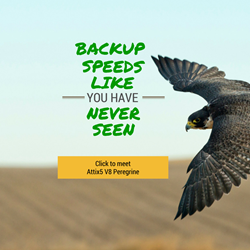 V8 Peregrine is a game changer
Oakville, Ontario (PRWEB) January 20, 2015
Jacques Swanepoel, CTO Stage2Data has launched Attix5 V8 Peregrine to a North American market eager for a solution to explosive data growth and lengthening backup windows.
At the recent Peregrine launch, Swanepoel outlined the advances the new Attix5 product offers. He stated, "Attix5 has broken the speed barrier with the release of this version. As beta testers, we were the first to see the incredible advancements. In our own tests V8 easily backed up 30 million files in an hour. When we compare that to 1 million files a hour we know that this is not a minor improvement, this is monumental. V8 Peregrine is a game changer."
When queried about the ideal user of this version, Swanepoel said, "This new version is ideal for very large file servers, the ones that are growing exponentially with files of the corporation. It is not for data bases or specific applications ... it's specifically for large file servers."
Jeff Collier, President of Stage2Data echoed Swanepoel's statements about V8 Peregrine saying, "We've been part of this new version from testing to launch and we're proud to be the exclusive distributors in North America. Companies looking for unbeatable backup speeds need look no further than Stage2Data. What's more, V8 Peregrine is an excellent addition to our team's proven "above and beyond" support, superior customer experience and technical excellence."
For more information about V8 Peregrine visit http://www.stage2data.com. For general information or a full data security assessment, contact Stage2Data at 1-855-430-0866.
About Stage2Data
Stage2Data is Canada's Premier Cloud Solution Provider and a CDN Channel Elite Top 3 in Canada award winner in 2014. http://www.stage2data.com