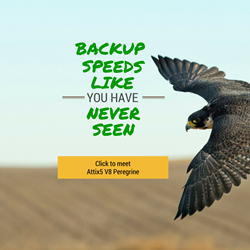 We're talking about backing up 30 million files an hour. It's a game changer.
Oakville, Ontario (PRWEB) January 27, 2015
Data Backup speeds and shrinking Backup Windows are the core topics of a five part series of editorials written by Stage2Data CTO Jacques Swanepoel.
As a follow up to the North American exclusive launch of V8 Peregrine from Attix 5, Swanepoel created a series of though leadership pieces that focus on the growing problem of explosive data growth and the realities of Backup Windows that are beginning to encroach on the six am cut off time.
In one of the blogs, Swanepoel outlines the reality of Attix5 V8 Peregrine backing up 30 million files in one hour compared to the industry norm of 1 million files per hour. In his thought provoking blogs, Swanepoel outlines solutions to some of the most pressing issues his peers across North America are facing.
The thought leadership blogs on data growth, data backup and the new Attix5 V8 Peregrine solution can be found on the Stage2Data website.
About Stage2Data
Stage2Data is the Master Distributor of Attix5 in North America and the exclusive distributor of V8 Peregrine. As Canada's Premier Cloud Solution Provider, Stage2Data won a CDN Channel Elite Award in 2014. For more information visit http://www.stage2data.com