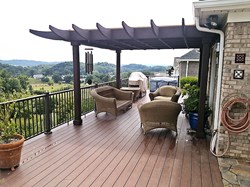 Kingsport, TN (PRWEB) November 13, 2013
The grand prize winners of the 2013 Perennial Wood™ Pro Challenge, as determined by crowd-sourced voting, are:
Deck of the Year: Southerland Construction and Renovation of Kingsport, Tenn.
Where there once was an improperly installed deck of composite decking material, now stands a beautiful outdoor escape made of Perennial Wood decking for one Kingsport homeowner. The homeowner had done her research into various decking materials but hadn't heard about Perennial Wood decking until Southerland introduced her to it.
"This customer was very discerning and only wanted the best materials for her project," said Mr. Shannon Southerland, owner of Southerland Construction and Renovation. "Her decision to choose Perennial Wood decking was influenced by the facts that it is natural wood, not an imitation, and it is made locally."
Both Southerland and the homeowner are very pleased with the final results of the project and recommend Perennial Wood to others.
Porch of the Year: RL Riddle Construction, LLC of Winston-Salem, N.C.
For its restoration of a 12-year old porch in Winston-Salem, RL Riddle Construction LLC has won Porch of the Year. The previous porch had tongue-and-groove pine flooring that had buckled and needed to be replaced. Perennial Wood porch flooring was chosen for the new floor. The finished porch is beautiful and perfectly complements the home's distinctive white siding and black trim.
"I liked working with Perennial Wood porch flooring," said Lee Riddle, owner of RL Riddle Construction. "It went down well. It painted well. And I was amazed there was absolutely no waste."
Both winners will receive up to $5,000 in free Perennial Wood products and professional photography of their winning projects. The public chose the winners via social media by viewing photos of three finalists in each category and voting for their favorite projects.
"Perennial Wood has been used for exquisite projects from complete outdoor living spaces to historic porches throughout the Northeast and the South Atlantic," said Jim Flickinger, market development manager for Perennial Wood. "The Perennial Wood Pro Challenge is one small way for us to give trade professionals much-deserved recognition for their work."
Builders, remodelers, architects, designers and deck builders were invited to enter any Perennial Wood decking or Perennial Wood porch flooring project completed between Aug. 1, 2012, and Oct. 1, 2013, in the Pro Challenge.
About Perennial Wood
Perennial Wood from Eastman Chemical Company is real wood modified — not treated —to endure through TruLast™ Technology. It is three times more dimensionally stable than unmodified wood and resists changes from moisture for decades. TruLast Technology permanently transforms the wood's cellular structure throughout by using heat, pressure and an organic compound to replace the water-loving (hydrophilic) groups in the wood's cells with water-hating (hydrophobic) groups. The resulting Perennial Wood remains straighter, smoother and harder than unmodified wood, while maintaining the wood's natural appearance. Best of all, TruLast Technology provides a physical barrier throughout the wood that's warranted to protect against rot, decay and movement for 25 years. Current available applications include Perennial Wood decking and Perennial Wood porch flooring. To find a location, visit the PerennialWood.com "Where to Buy" page. For more information on Perennial Wood, visit PerennialWood.com or call 800.530.7495.
About Eastman
Eastman is a global specialty chemical company that produces a broad range of products found in items people use every day. With a portfolio of specialty businesses, Eastman works with customers to deliver innovative products and solutions while maintaining a commitment to safety and sustainability. Its market-driven approaches take advantage of world-class technology platforms and leading positions in attractive end-markets such as transportation, building and construction and consumables. Eastman focuses on creating consistent, superior value for all stakeholders. As a globally diverse company, Eastman serves customers in approximately 100 countries and had 2012 pro forma combined revenues, giving effect to the Solutia acquisition, of approximately $9.1 billion. The company is headquartered in Kingsport, Tenn., and employs approximately 14,000 people around the world. For more information, visit http://www.eastman.com.
# # #
NOTE TO EDITORS: Only low resolution photos of the winners are available. If you'd like to run a generic, but high resolution, photo of a Perennial Wood project, please contact Amy Lewis at amy(at)renownmarketing(dot)com.