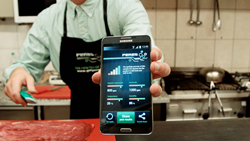 Foodborne illness doesn't discriminate based on wealth or social status.
Charlotte, NC (PRWEB) May 27, 2014
The Indiegogo campaign for PERES, a portable device that analyzes food products to determine if they are fresh and safe for human consumption, has reached its funding goal of $50,000. Reaching their funding goal ensures that the team behind PERES can begin manufacturing the device and also guarantees that backers who have pre-ordered PERES will have their order fulfilled.The project has raised over $58,000 to date and, with nine days remaining in the campaign, looks to continue drawing support from its backers.
PERES analyzes airborne data to analyze the freshness of beef, pork, poultry and fish and provides instantaneous feedback through a mobile app. PERES is the flagship product from ARS Lab LTD, a manufacturing company that creates innovative products and solutions for the food and agricultural sectors.
"The support we've seen from our backers is truly amazing," says Augustus Alesiunas, CEO of ARS Lab LTD. "We knew we were creating something the public both wanted and needed. To have those feelings validated by our backers' support is indescribable. PERES will forever change the way we look at food freshness."
Volatile organic compounds, or VOCs, are compounds that are detectable in decomposing poultry, beef, pork and fish. PERES utilizes four different sensors: one to detect VOCs, one to detect ammonia levels, one to detect temperature and one to gauge humidity levels. The device reads and analyzes the data gathered by the sensors before transmitting it via Bluetooth to the user's smartphone or tablet where it can be viewed on the PERES app. A number of graphs and charts provide a visually appealing representation of the data accrued. From that data, one can conclude whether or not the food is safe to consume.
A common misconception is that foodborne diseases only affect less economically developed countries. However, the United States Centers for Disease Control estimate that roughly 48 million people are infected with a foodborne illness each year in the USA alone. The World Health Organization recognizes over 200 foodborne diseases that can be spread in any country, regardless of the level of industrialization. By introducing PERES to the general public at an affordable cost, ARS LAB aims to lower those figures and, in turn, create a healthier society.
"Foodborne illness doesn't discriminate based on wealth or social status," says Alesiunas. "Anyone, at anytime, can get sick. PERES will help reduce the chances of contracting a foodborne illness and, in turn, significantly lower the mortality rate."
To find out more information about PERES or to place a pre-order, visit their Indiegogo campaign page. Also like PERES on Facebook and follow them on Twitter @get_peres to stay up to date on all ARS LAB announcements and news.
About PERES
PERES is the world's first portable 'e-nose' – a unique and innovative electronic device and mobile application which enables users to determine the quality, freshness of meat, poultry, and fish. It works by taking a sample of the gases emitted by the food product and testing them for concentration of various volatile organic compounds and ammonia as well as measuring the temperature and humidity. The findings are then analyzed to determine the food product's quality, freshness, and nutritional value and transferred to a tablet or smartphone via Bluetooth. PERES was developed by ARS Lab LTD, a company dedicated to creating innovative products and solutions for the food and agricultural sectors. For more information, visit http://www.getperes.com.