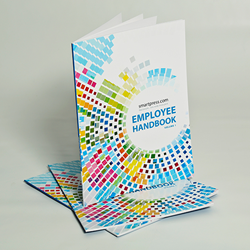 Perfect bound books look like a typical paperback book that could be found in a bookstore or purchased online.
Chanhassen, Minnesota (PRWEB) March 11, 2015
Smartpress.com is excited to announce that it has expanded its print production line to include perfect bound books. This new offering will allow customers to print books with perfect binding through the online printing service. Smartpress.com is a leading provider of digital print that has made a name for itself in part due to its saddle stitch booklet, spiral bound booklet and wire coil booklet printing and binding capabilities.
Perfect bound books look like a typical paperback book that could be found in a bookstore or purchased online. Perfect bound book printing can be used to create a variety of publications. Aspiring authors can self-publish fiction or non-fiction paperbacks without having to gain the approval of a publisher. Businesses can create a range of books for internal use or for sharing with customers, such as product catalogs, instruction manuals, employee handbooks, orientation guides and more. Photographers, designers and digital artists could compile their best creative works into tomes to sell, send to galleries or give to potential clients.
"We've really honed our skills on creating booklets that make our customers happy, with their quality, appearance and durability. Making perfect bound books available was a natural next step for us," said Chuck Reese, President at Smartpress.com. "This is something that has been in the works for a little while so that we could be sure to get the right equipment, the right machine operators and produce bound books that truly stand up to their name: Perfect. I look forward to seeing all the creative and practical ways that our customers will utilize this new print offering."
Smartpress.com is a rapidly growing company that succeeds in part by consistently expanding the services and products it offers in order to satisfy the needs of its customers. Last year, the digital print services provider acquired the first MotionCutter® laser die cutting system available in North America which basically enables short run die cutting, as well as two HP 10000 presses that can print up to a 29-inch format, and upgraded two HP Indigo presses from 7600s to 7800s to cut down on turnaround times. In June, Smartpress.com began offering Graphic Design Services to customers who need a designer. The year before, the company introduced white ink printing on colored paper, opening up a new world of print possibilities. As the company grows in the future, more valuable printing options and services will be made available, while Smartpress.com continues to deliver world-class customer service, top quality print, fast turnarounds and a 100% satisfaction guarantee.
Learn more about what makes Smartpress.com a smart choice for fulfilling digital printing needs: http://smartpress.com/pages/about-smartpress
About Smartpress.com
Smartpress.com is the fastest, easiest way to buy print online. The company prides itself on world-class customer service and attention to detail with 100% outcome satisfaction. The Smartpress.com advantage is providing a simple ordering process with fast turnaround at competitive prices. This 100% employee-owned company uses state-of-the-art digital presses with a wide selection of paper stocks, and has the ability to deliver top-quality results in quantities as small as a single piece. Smartpress.com provides sophisticated finishing options including a wide variety of print media, mounting substrates, laminates and digital die cutting. The company also has the capability to print photographic quality, large format prints; backlit graphics; magnets; and banners. In addition, they can execute full variable data and cross-media direct marketing campaigns. To see the wide variety of offerings and to learn more, please visit http://smartpress.com.