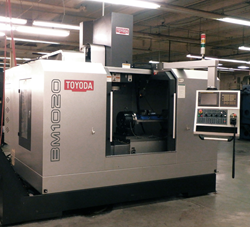 Spindale, NC (PRWEB) April 28, 2016
Perfection Industrial Sales, a unit of Perfection Global, LLC, has announced an online auction following the closure of Sabre Defence Industries' pristine firearms manufacturing facility in Spindale, North Carolina. The plant previously manufactured a variety of popular weapons and weapon spares, including M-16 rifles, M-4 carbines and Stellite™-lined M-2 50 caliber barrels. Lincoln, Nebraska-based New Empire Industries, the company that had recently purchased all assets belonging to Sabre Defense Industries, and its subsequent owner Manroy USA, has made the strategic decision to scale back operations to focus on a core business of barrel manufacturing.
Interested buyers may schedule inspections on Monday, May 2nd between 8:00AM EDT and 4:00PM EDT at the Sabre Defence facility at 159 Yelton Street in Spindale, North Carolina. Lots for the online auction will begin closing at 11:00AM EDT on Tuesday, May 3rd. Additional information including a full lot catalog can be viewed at http://www.perfectionindustrial.com.
The assets up for auction include vertical and horizontal machining centers, CNC lathes, conventional machine tools, coordinate measuring machines, tool holders, perishable tooling, forklifts, factory support equipment and much more.
About Perfection Global, LLC: Perfection Industrial Sales, a division of Perfection Global, LLC, specializes in providing global asset management solutions for both small and large companies in a wide variety of industrial sectors. These services are offered through a range of tailored solutions which include Live Webcast and Online Auctions, Negotiated Sales, Investment Recovery, Appraisal, Real Estate Acquisition and Sale & Lease Back programs.
For more information about Perfection Industrial Sales and this auction sale, please contact Jennifer Reiner at (847) 545-6374 or visit http://www.perfectionindustrial.com.