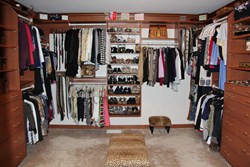 "Perfect Place comes in and helps people get organized. You get the mess out!" - Mary Nickels, Morning Anchor at KUTV
Ogden, Utah (PRWEB) July 30, 2013
Laurie Rackham and her team at Perfect Place Organizing know how to manage the clutter in your home. Recently they demonstrated some of their techniques when they were featured on two Salt Lake City television stations. KUTV, ABC Channel 4, offered a long segment that demonstrated innovative techniques to de-clutter the typical kitchen junk drawer. Professional home organizers and decorators, the Perfect Place ladies quickly showed simple ways to accomplish the task and create a system by utilizing containers and a labeler. Their novel use of paper towel and toilet paper cores to store cables and cords, keep them neat and untangled.
On KUTV, CBS Channel 2, morning anchor Mary Nickels interviewed the Laurie and her team, who showed video footage of actual organizing projects the Perfect Place team had successfully completed. The segment demonstrated several remarkable reorganizations, including a garage makeover, a laundry room, typical bedroom closet and a kitchen pantry.
About Perfect Place Organizing
Perfect Place Organizing specializes in providing residential organizing and decorating solutions to help Utahns with their residential and commercial spaces. The company's services include Home Organizing, Interior Decorating, Home Staging and Residential Cleaning.
With a focus on residential spaces, the Perfect Place professionals revive them from disorganized to beautiful and comfortable. Owner Laurie Rackham started the firm in 2010 with a 30-year professional background in the decorating and design field. She and her team focus on developing spaces that have beauty, peacefulness, purpose and panache.
The firm prides itself on providing the highest quality services that are not only skilled and professional, but are respectful and considerate of client's privacy. Licensed, bonded, and insured, the company provides services to clients in the Salt Lake City, Ogden, and Park City, Utah areas. Perfect Place Organizing is a member of The National Association of Professional Organizers.