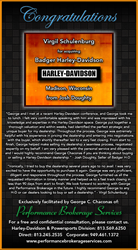 From start to finish, George helped make selling my dealership a seamless process, negotiated expertly on my behalf and I am very pleased with the personal service and diligence. - Josh Doughty, Seller of Badger Harley-Davidson
Irvine, CA (PRWEB) May 20, 2015
Josh Doughty, the owner of Badger Harley-Davidson in Madison, Wisconsin contacted George C. Chaconas of Performance Brokerage Services, a Harley-Davidson, Powersports and auto dealership broker, to assist with selling his dealership. Josh chose to sell his dealership so that he could return to work with his father, Terry Doughty, who owns and operates Harley-Davidson of Appleton, Wisconsin. Badger Harley-Davidson will remain in its current location at 6200 Millpond Road.
Upon completing the sale of his dealership, Josh Doughty commented, "I felt very comfortable speaking with [George] and was impressed with his knowledge and expertise in the Harley-Davidson space. Soon after we met, I decided to engage George to sell my dealership. George put together a thorough valuation and within weeks, he had identified the perfect strategic and unique buyer for my dealership. Throughout the process, George was extremely helpful with his experience in pricing the dealership and entering into negotiations with the buyer, which shortly thereafter led to a Letter of Intent, an Asset Purchase Agreement and a very fast closing. From start to finish, George helped make selling my dealership a seamless process, negotiated expertly on my behalf and I am very pleased with the personal service and diligence. I would highly recommend George Chaconas if you are thinking about buying or selling a Harley-Davidson dealership."
Virgil Schulenburg, the new owner of Badger Harley-Davidson, purchased his first Harley-Davidson dealership at the age of 25 in Sauk City, Wisconsin in November of 1979. His flagship store has earned 17 Gold Bar & Shield Circle of Excellence Awards, which are given to the top 25 Harley-Davidson dealers in the United States. In 2009, Virgil purchased Harley-Davidson of Dubuque, Iowa. The most successful of the charitable events sponsored by the dealerships is the Freedom Ride for Muscular Dystrophy Association, which has generated over $100,000 annually. When interviewed about his recent purchase and experience with Performance Brokerage Services, Virgil stated, "Ironically, I tried to buy the dealership several years ago to no avail. I was very excited to have the opportunity to purchase it again. George was very proficient, diligent and responsive throughout the process. George furnished us with all the requested information in a timely manner and helped us to a fast track closing in less than 90 days from start to finish. We are very excited and happy with the new dealership and look forward to working with George and Performance Brokerage Services in the future. I would highly recommend George to any Harley-Davidson or car dealers looking to buy or sell a dealership."
George Chaconas, the representative for this transaction and the head of the National Harley-Davidson and Powersports Division shared, "It was a great pleasure to help these gentlemen. Both parties were wonderful to work with throughout the process and I believe they are both very happy with the outcome. Virgil has wanted to own this dealership for years and is excited about taking it to the next level and Josh is pleased to reunite and work again with his father, Terry. I wish them both good luck and tremendous success in their future endeavors."
About Performance Brokerage Services
Performance Brokerage Services, an auto dealership broker, specializes in professional intermediary services to buyers and sellers of automotive, Harley-Davidson and Powersports dealerships.
The company offers a different approach to the automotive, Harley-Davidson and Powersports industries by providing complimentary dealership assessments, no upfront fees, no reimbursement of costs and is paid a success fee only. Performance Brokerage Services gets paid only after the client gets paid.
With over 24 years of experience, the company utilizes an extensive network of industry related accountants, attorneys, hundreds of registered buyers and enjoys longstanding relationships with most of the auto manufacturers and the Harley-Davidson Motor Company. The intermediaries at Performance Brokerage Services have been involved in well over 400 transactions. Pledging loyal and unwavering representation, confidentiality is vigilantly protected during the selling process and after the transaction closes.
With corporate offices in Irvine, California located at 7545 Irvine Center Drive, three satellite offices in Utah, Florida and New Jersey, and a dedicated Harley-Davidson and Powersports division, Performance Brokerage Services provides its clients national exposure with local representation. For more information about the services offered by Performance Brokerage Services, visit https://performancebrokerageservices.com.